July 25, 2018
FOR IMMEDIATE RELEASE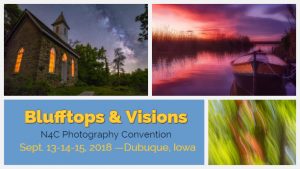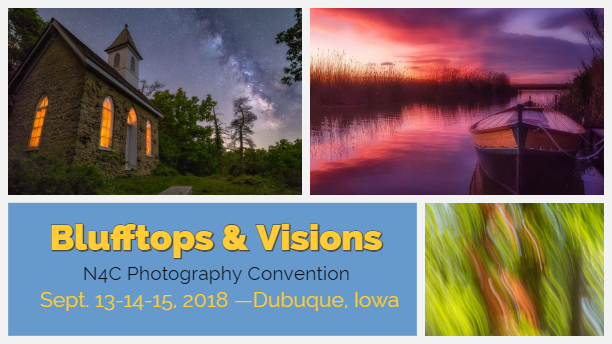 Visit Dubuque this fall for the
Blufftops & Visions N4C Photography Convention!
DUBUQUE — Are you a skilled photographer? Would you enjoy meeting other photographers, attending photography presentations and seminars, or participating in creative photo shoots?
This fall, the Dubuque Camera Club will host the Blufftops & Visions N4C photography convention in Dubuque, Iowa, on September 13-14-15, 2018.
Dubuque, the oldest city in Iowa, is located on the Mississippi River. Many photo opportunities are located in downtown Dubuque, within walking distance of convention headquarters at the Holiday Inn of Dubuque/Galena, 450 Main Street, Dubuque, IA, 52001.
Blufftops & Visions will kick off Thursday, September 13 on the Mississippi River Walk with a special evening photo shoot at the Historic Shot Tower. On Friday and Saturday, delicious banquets will end full days of workshops, presentations, and photo shoots.
Brandon Erdman, a talented landscape photographer and National Geographic award winner, will be guest speaker at the banquet on Friday. Saturday's keynote presentation will be given by Iván Ferrero, a cityscape and landscape photographer from Madrid, Spain.
Bring your camera along when you attend Blufftops & Visions, because Dubuque offers plenty of possibilities for photographers. The brick and limestone within the Historic Millwork District is great for portrait backdrops. The view from Eagle Point Park is panoramic. Landscape and nature photographers will find subjects. See barges and riverboats, as well as pelicans and eagles.
The Dubuque Camera Club, a volunteer group, has been around since 1899. The N4C is a non-profit organization that is made up of 40 regional camera clubs. Both N4C members and photography enthusiasts from the general public are invited to attend this weekend convention. Advance registration is required. Early bird deadline is August 10, 2018.
For more information about the Blufftops & Visions N4C photography convention, visit the Dubuque Camera Club website. You can also follow Blufftops & Visions on Facebook.
###
If you have questions or need more information, contact us.