Dubuque Camera Club member Sam Fenstermacher contributed to these meeting notes.
Fourteen club members attended the Dubuque Camera Club virtual club meeting on Monday, September 20, 2021. This meeting was held via Zoom. Tentatively, the club plans to meet IN PERSON for the next meeting on Oct. 4th. However, internet is not working at the nature center, so the club will NOT be stream meetings as we hoped. (Scroll to the bottom of this post for more meeting information).
Finishing up DJ judging. The top item on the agenda for tonight's meeting was deciding tiebreakers for the monthly N4C Digital Journalism (DJ) contest. "There was a lot of stuff that was close in caliber," said club president Ron Tigges, "so we need to resolve those tonight."
As a club, we looked at all of the DJ entries for this month's contest. Club N4C rep Cara Pusateri organized the top-scoring images. (She had experienced some trouble with Excel, due to outdated software, so tech recommendations flew back and forth a couple minutes. )
Prior to the meeting, three of our club members had already judged 63 images from 18 clubs. No manipulation is allowed in the DJ category, which means that photos need to be "real," with nothing added or removed or altered. Panel-type images, consisting of a story of 2-3 photos, are fine.
Each judge had given each entry a numeric score. In DJ, 3 judges score each entry 2 to 9 for a max possible of 27pts. When all of the judge's scores are put into a spreadsheet, ties happen. Ron was the only judge present, so he asked for input from others.
First, second, third, and honorable mention images were chosen. See the top-scoring Digital Journalism entries, along with winners in other categories, in the Winners' Galleries on the N4C website.
Do you need a model release for that?
Photo opps — model releases, privacy, copyright. Several of the DJ images were of athletes, which inspired a discussion of similar local photo opps. Several trail runs and marathons/ultramarathons are hosted in Dubuque — The Swiss Valley Trail Run is coming up on Oct. 5, and the Mines of Spain 100 will be on Oct. 15-16.
The club briefly discussed the subject's right to privacy, whether permission is needed to take photos of others, if a model release is needed, and whether it makes a difference when an event is held on public land.
"It's a very complicated issue," said new club member Suzie Wright. Her work in the past involved clearing permissions in book publishing. "That's why I can't wait to hear what changes happen in January." That's when the CASE Act will get up-and-running.
Suzie explained: "When you're hanging something for art's sake, and not making money on it, as long as you're not harming that person's brand, you have a little more latitude."
"There's two people that need to be protected," added Ron, "the person that you're photographing, and your work as a photographer."
The group consensus was that, if you hope to photograph the upcoming trail runs and marathons, one strategy is to make contact with race organizers in advance. Another option is to approach the athletes themselves beforehand or afterwards, to get their name and request permission, or to have them sign a model release form.
A suggestion was made to see what Adobe Stock's policy is for their contributors. Here's their policy on Model Releases. Here's their info on Property Releases.
Club business
Membership update, treasurer's report, and "Trees" exhibit. As of Sept. 20th, our club has 28 active members for the 2021-22 season. We are a "large" club by N4C standards. (Reminder: Only active members may participate in club exhibits. It's easy to renew your membership. Simply pay $20 annual dues).
Jennifer prepared a summary of club financials. We are in the black, yay!! Recent expenses have included food for the opening reception for the club's "Eclectic" exhibit at the Smokestack; along with catered lunches for the club picnic in June.
The club has the option to again subsidize the cost of prints for the Dubuque Museum of Art exhibit. Ron will meet with the curator later this week. She is currently reviewing submissions. After exhibit images are chosen, each club member with an image chosen will be notified and asked whether they wish to participate. We'll be ordering prints as a group.
The club will give two presentations during the 3-month duration of the "Trees" exhibit:
"History of War Photography" — a presentation by Ron, Stephonie, and Bob.
Exhibitor presentation — a talk by club members with prints in the show: Get ready to volunteer!!!
Our club will enter N4C Print Contests!
NEW: Print competition. Due to positive changes in the contest, our club has decided to start participating in N4C print contests. Stephonie Schmitz has volunteered to serve as print chairperson. She will collect submissions, and make sure they get forwarded to the appropriate judging club.
** Deadline to submit prints will be the first meeting of each month** There will be a few days of wiggle room (no later than the 7th). They must be received in time for her to get them in the mail so they can reach the judging club by the deadline. Stephonie made ** print labels ** as well as a concise version of the ** N4C rules for Prints ** which you can also find in the club's Facebook group.
"I would be ordering stuff now for next month's entry," Stephonie suggested to the group. 8″x10″ prints will work fine. She uses Miller's (was MpixPro) and McKenna in Waterloo. (Sam F. suggested Nations Photo Lab). Next season, our club will probably need to judge prints too.
Other news
• The N4C has updated their "Handbook" for the current season. It is on the "Supplies and Forms" page on their website.
• Dubuque Camera Club member and state representative Chuck Isenhart reminded the group of a conservation bond coming up for vote that will give financial support to local parks and preserves. It is called the Dubuque County Land and Water Legacy, and should be of interest to all landscape and wildlife photographers. The Catfish Creek Music Fest will be held in support of this bond measure at Swiss Valley Park on Sun. Oct. 3rd from 2-5 p.m. Find more info at dbqlandandwater.org
• Dubuque Camera Club member Stephonie Schmitz has invited us to a reception for her photography exhibit at Chestnut Mountain Resort. The exhibit is currently on display in the lobby. The reception will be on Thurs., October 14th from 4-7p.m. This is a pretty spot for landscape photography, especially with the trees changing, so stop out if you get a chance!!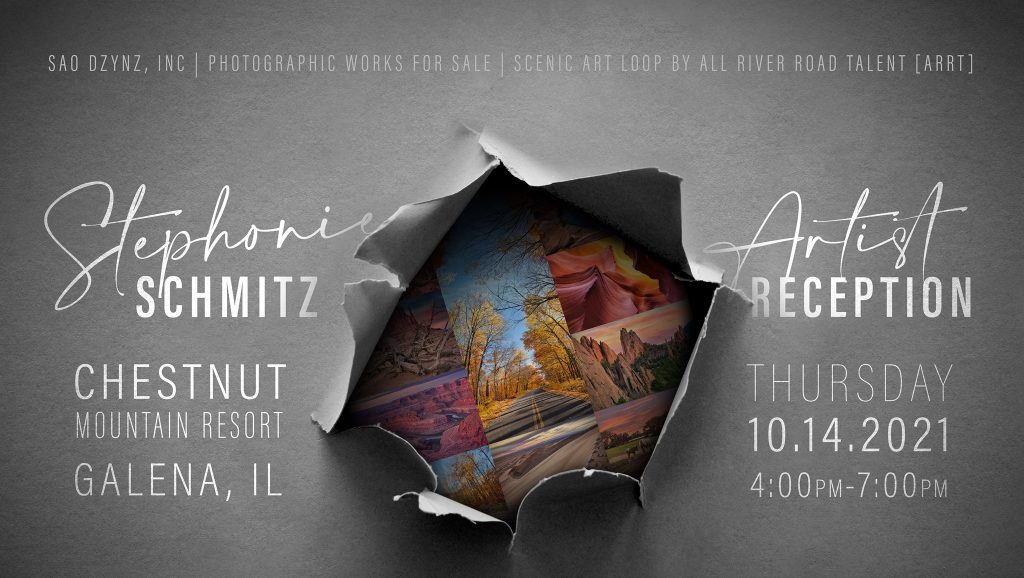 :: ARTIST RECEPTION ::
THURSDAY, OCTOBER 14th
4:00pm – 7:00pm
Chestnut Mountain Resort Lobby
Light snacks provided. Drinks and food available for purchase with one of the most scenic views of the Mississippi River in the TriState area.
Chat and mingle while viewing photographic works by Stephonie A Schmitz of SAO Dzynz, Inc.
Art + 1,000 piece jigsaw puzzles available for purchase
****
---
Next club meeting will be IN PERSON on Monday October 4th at 6:30 p.m.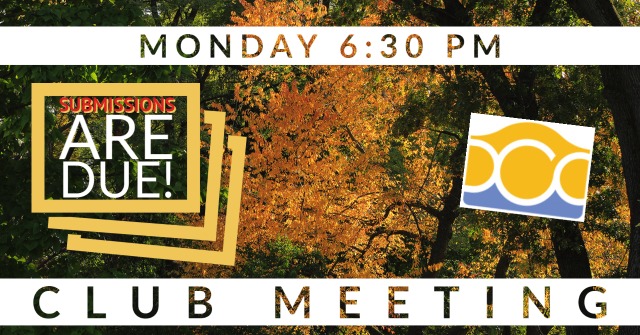 The next Dubuque Camera Club meeting will be held on Monday, October 4th, starting at 6:30 p.m.
TENTATIVELY, the next meeting will be in person at E.B. Lyons Interpretive Center in the Mines of Spain. The internet is not working at the nature center, so the club will NOT be livestreaming meetings as we hoped.
N4C contest submissions are due before the meeting. Because we judged that category this month, our club can submit double (16) entries in Digital Journalism. See the Competition page for more information about submitting to monthly N4C contests.
Note: Meeting details are subject to change. Current club members will receive more information by email.