Wondering what you missed at the last meeting? Or are you a new member, wondering what goes on in our wild world of photography? See the
Meeting Notes page
for all the latest details.
The Dubuque Camera Club is dedicated to promoting an appreciation for the art and skill of digital photography. If you are a tri-state photography enthusiast, you are welcome to join us! Being part of a photography club can bring new ideas and creative inspiration to your work.
The Dubuque Camera Club has a long history. We belong to the North Central Camera Club Council (N4C), an organization of over 40 midwestern photography clubs. Our members are eligible to compete in N4C photography competitions as well as photography exhibits and other fun events.
To join, attend a meeting. You may print the Membership Application and email it or bring it along. See the meeting schedule below, or visit the events page. For more information, please see our 2018 brochure.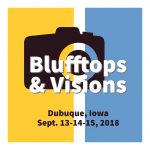 Club Officers 2018-19
President: Ronald Tigges (563) 583-7128
Vice President: Kenneth Kiss
Treasurer: John Leicht
N4C Reps: Cara Pusateri & Ken Kiss
Communications: Pamela Brandt
Public Relations & Events: Jennifer Tigges
Dubuque Camera Club Schedule *

We meet on the 1st and 3rd Mondays at 6:30 p.m., Sept.-May, at E.B. Lyons Interpretive Center in the Mines of Spain.
*subject to change
[See the events page for more details.]
June 18, 2018 – Submissions due for Seeing Red, our exhibit at the Dubuque Museum of Art.
TBA — Summer meetings.
Tues. Sept 4, 2018 – First regular club meeting of the season.
Sept. 14, 2018 — Seeing Red exhibit opens (tentative) at the Dubuque Museum of Art.
Sept. 13-14-15, 2018 – Blufftops & Visions. Our club will host the 62nd annual N4C photography convention in Dubuque, Iowa. [*Click here to learn more.*]
September 17, 2018 – Judging Digital Pictorial
February 2019 – Judging Digital Black and White
April 2019 – Judging Digital Travel