The Dubuque Camera Club is dedicated to promoting an appreciation for the art and skill of photography. If you are a tri-state area photography enthusiast, you are welcome to join the club.
Looking for the latest club news? See the Meeting Notes page.
See detailed information about what's coming up on the events page. Or scroll down for a schedule.
Would you like to join the club?
If you are interested in joining the Dubuque Camera Club, you are welcome to attend a meeting. Regular meetings are held twice a month on Monday evenings from September through May. Here's the Membership Application. Find out more in our brochure.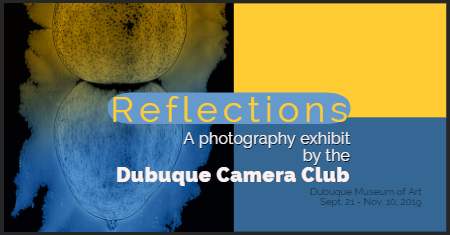 Our club is affiliated with the N4C, an group of around three dozen midwestern photography clubs. In September 2018, we hosted Blufftops & Visions, the 62nd annual N4C photography convention in Dubuque, Iowa. Visit the Blufftops & Visions photo gallery.
---
Upcoming Meetings…
Dubuque Camera Club meetings are held on the 1st and 3rd Mondays from September through May. Most meetings start at 6:30 p.m. Location: E.B. Lyons Interpretive Center, Mines of Spain.
See the events page for more details about upcoming activities.
October 21, 2019 — Club meeting. Light Painting and Night Photography workshop. Bring tripod and gear. More info here.
Friday, Nov. 1, 5:00 to 9:00 p.m. — Fall Into Art, a tour of downtown Dubuque galleries. Be sure to see the Reflections exhibit at the Dubuque Museum of Art! More info here
November 4, 2019 — Club meeting. N4C competition submissions due.
November 10 — Last day to see the Reflections exhibit at the Dubuque Museum of Art.
November 18, 2019 — Club meeting. Workshop or presentation TBA.
December 9, 2019 —

Holiday potluck party.

No second meeting in Dec. More info here

---

January 6, 2020 — First club meeting of the New Year. Submissions due.
Saturday, January 18 (TENTATIVE) — Dubuque Bald Eagle Watch. The club will have a booth in the vendor area.
January 20, 2020 — Club meeting. Workshop or presentation TBA.
February 3, 2020 — Club meeting. Submissions due. No Digital Pictorial entries.
February 17, 2020 — Club meeting. Judge Digital Pictorial
March 2, 2020 — Club meeting. Submissions due. Double Digital Pictorial entries
March 16, 2020 — Club meeting. Workshop or presentation TBA.
April 6, 2020 — Club meeting. Submissions due. Double Digital Travel entries
April 20, 2020 — Club meeting. Workshop or presentation TBA.
April 24-26 — N4C mini-con
May 4, 2020 — Club meeting. Submissions due. No Digital Travel entries
May 18, 2020 — Club meeting. Judge Digital Travel
June 1, 2020 —

End-of-the-Season Potluck Picnic
2019/2020 Club Officers
| | |
| --- | --- |
| Club President | Ronald Tigges |
| N4C Board of Directors / Club PR | Jennifer Tigges |
| Treasurer | John Leicht |
| N4C Representative | Cara Pusateri |
| Vice President / N4C Rep | Kenneth Kiss |
| Communications | Pamela Brandt |