During a season running from Sept. 2018 through May 2019, members of the Dubuque Camera Club entered their original digital photography in the monthly N4C competition. The competition is judged on a rotating basis by 37 different midwestern photography clubs.
Ten of our club members earned first, second, third, or honorable mention awards. Their 24 images will advance to the annual competition at Finding Your Light, the annual N4C convention to be held this year in Des Moines in September 2019.
Many of our club photographers also earned merit awards. Although merit award images do not advance, these photographers received recognition from judging clubs. All of our club's competition entries are posted in our online gallery. The N4C Winners galleries may be found here.
Submitting to monthly N4C competitions is one of the perks of Dubuque Camera Club membership. Receiving feedback from others helps us to evaluate our own work so we can learn and grow as photographers. Even if we don't receive any awards, participating in the competition is a fun way to be involved with the club.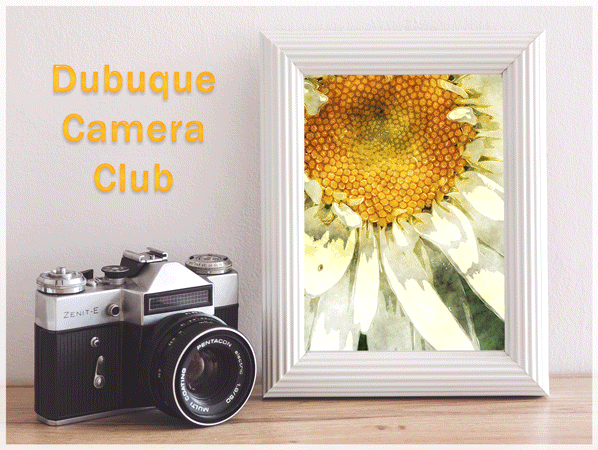 | | | | | | | |
| --- | --- | --- | --- | --- | --- | --- |
| Mo/Yr | Month | Category | Image title | First | Last | Award |
| 2018-11 | November | Digital Altered Reality | Painted Daisies | Eleanor | Schueller | HM |
| 2018-11 | November | Digital Altered Reality | Success on attempt number 5 | Ron | Tigges | HM |
| 2018-10 | October | Digital B&W | Forgotten Coon Hound | Ron | Tigges | 1st |
| 2018-11 | November | Digital Journalism | Oh Crap | Ron | Tigges | HM |
| 2018-10 | October | Digital Pictorial | Happy Halloween | Ron | Tigges | HM |
| 2018-10 | October | Digital Travel | Late Night on the Mississippi Dubuque, Iowa | Ron | Tigges | HM |
| 2019-05 | May | Print Panorama | Christmas in July | Ron | Tigges | 3rd |
| 2019-02 | February | Digital Journalism | Rock Climber Scales Sheer Cliff Face to Summit Rim | David | Smethers | 1st |
| 2019-01 | January | Digital Travel | Horseshoe Bend | David | Smethers | HM |
| 2019-04 | April | Digital Pictorial | Bouquet of Fireworks Over People & Mississippi River | Robert | Felderman | 3rd |
| 2019-03 | March | Digital Nature | What's for Lunch | Kenneth | Kiss | HM |
| 2019-05 | May | Digital Travel | Virgin River at Zion National Park Utah | Kenneth | Kiss | HM |
| 2018-09 | September | Digital Nature | Hummer | Kevin | McTague | 2nd |
| 2019-03 | March | Digital Nature | Downy Woodpecker 2 | Kevin | McTague | HM |
| 2019-04 | April | Digital Nature | The Landing | Kevin | McTague | HM |
| 2019-02 | February | Digital Travel | Auckland New Zealand | Kevin | McTague | HM |
| 2019-05 | May | Digital Travel | Grand Canyon, Arizona | Kevin | McTague | HM |
| 2018-10 | October | Digital Altered Reality | Smokydress | Jose | Garcia | HM |
| 2018-10 | October | Digital B&W | Smoke | Jose | Garcia | HM |
| 2018-10 | October | Digital Travel | Monument Valley, Utah | Jose | Garcia | 1st |
| 2019-05 | May | Digital Pictorial | Burrowing Owl | Becky | Mather | HM |
| 2019-03 | March | Digital Travel | Canyonlands of Utah | Becky | Mather | 3rd |
| 2019-01 | January | Digital Journalism | Bellevue Barn Blaze | Casey | Klein | HM |
| 2019-03 | March | Digital Pictorial | Train Wizzes By At Morants Curve | Cory | Huntington | HM |