The Dubuque Camera Club meeting on Monday, September 16, 2019 was attended by 23 people. Many of the people present were world travelers, including the youngest photographer in the group: Sara, age 6. She has traveled on at least two continents as an assistant to a professional photographer (Dad). She was a very good girl at the meeting. Here she is, looking patient and pretty…
The meeting's agenda was to judge 108 pictures in the Digital Nature category of the monthly N4C competition. Because it takes a while to consider all these images, and we wanted to get done before the cows came home, we needed to get started right away.
For that reason, preliminary discussion was limited to a quick reminder about the upcoming Reflections exhibition. Remember, our Reflections photography exhibit opens at the Dubuque Museum of Art on Sept. 21, with an opening reception on Friday, Sept. 27th from 5:00 to 7:00 p.m. Be there!
Becoming a new club member
Club treasurer John Leicht arrived fashionably late, to the great relief of a half dozen people eagerly willing to pay their dues for the 2019/20 season. Paying the club dues of only $20 per year qualifies you to participate in club exhibits and activities, sell gear on our Facebook group, and submit to the N4C competition, such as we judged tonight.
While the judges were being assembled (i.e., were lassoed cowboy style and yanked up front yelling their strong objections with spurs dug into the carpet), there was an extended discussion in the back row about how long, exactly, it takes to get a member number once a new member pays his or her dues for the first time.
Apparently, this is how it works: John gives the completed membership form to Cara, who passes that paper to some mysterious N4C liaison, who passes it on to a couple more volunteer bureaucrats, and then it slowly circles back around to us, like a squadron of migrating pelicans coasting gracefully over a vintage carshow while the gearheads scramble to protect their chrome.
Judging Digital Nature
There were indeed several good pictures of pelicans in this assortment of nature photos, both the brown pelican and the American White Pelican that we see around the Mississippi River. Not to mention photos of other birds, mammals, landscapes, bees and flowers, a couple of adorable foxes, and one beady-eyed mink that just about made Cara fall off her chair because for a moment she wondered if the critter who was after her chickens yesterday got in the building somehow.
No, the photos we saw tonight were not just from our club. When we judge, we are actually looking at submissions from about three dozen N4C affiliated clubs. This season (which runs from Sept. 2019 through June 2020), our club is scheduled to judge a total of three times. We'll judge Digital Pictorial in February and Digital Travel next May. Here's a map of where the N4C clubs are located: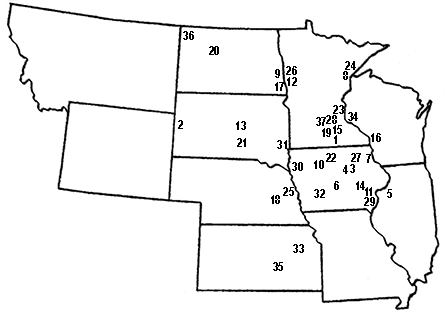 Serving as judges for Digital Nature tonight were John Leicht, Robert Felderman, and Greg Nauman. Facilitators were club president Ronald Tigges, and N4C reps Cara Pusateri and Ken Kiss.
All of the evening's judging was informed by a wealth of photography knowledge and careful evaluation. Insightful comments accompanied each photo, such as Greg's remark: "I just can't figure out what the h*ll it is."
At least one audience member who appeared to be obliviously scrolling on a smartphone, was actually downloading the new N4C competition rules multiple times in order to search for guidance. Any kind of guidance.
For one thing, nature photos should not show the "hand of man." Our gut instinct also tells us that people who edit nature photos in post-processing should not leave behind clumsy and obvious debris from deleted objects. Adjustments to nature photos should look natural.
As Ron said: "It looks like people are jacking with their nature. Don't do that!"
If a photo is obviously tinkered with, yet entered in a category that forbids such tinkering, it should probably have not been submitted by that club. But our club is a bunch of soft-hearted softies. So our judges used a 2-2-2 scoring for questionable photos. (P.S. If you are reading this and you belong to another N4C club, and your club's photos came back with all twos, you might want to read the rules.)
Digital Nature Rules
Nature Photography is the recording of our natural world by some photographic means. Included are all branches of nature except Archeology and Anthropology.
1. No photograph is worth distress or injury to any wild creature.
2. Nature photographs may be either black & white or color.
3. The hand of man shall not be present in any nature entry except where wild animals have adapted to the built environment (e.g., fence posts and other man-made objects freely adapted for use by wild creatures).
4. Banding or tagging on nature subjects is acceptable. Photographs at bird feeders are not acceptable if any part of a man-made feeder is shown in the photograph.
5. Photographs taken in zoos, animal farms, or game farms are acceptable if the hand of man is not visible.
6. Cultivated plants, domestic animals, and pets are not acceptable.
7. Adjustments must look natural. The use of HDR, exposure blending, focus stacking, stitching, and related techniques that combine more than one image is acceptable, provided the resulting image is natural in appearance.
— Source: N4C contest rules
For club members that want to do well in future competition, here are the qualities that catch the eye of our judges:
Subject is in sharp focus
Colors are well-saturated
Good lighting
Cropped

perfectly

(for a 16:9 screen)
Good use of any negative space
Interesting use of texture
Depth of field was considered
Doesn't look fake. (Manipulation is not obvious).
Tells an appealing story that makes the viewer wonder.
Think you've got what it takes? Current Dubuque Camera Club members (you must have a member number) are encouraged to submit to the next N4C competition. Each club member may send in up to one image per category. Submissions are due by or before our next meeting on Monday, October 7th. Specific instructions will be in the email that goes out to club members.