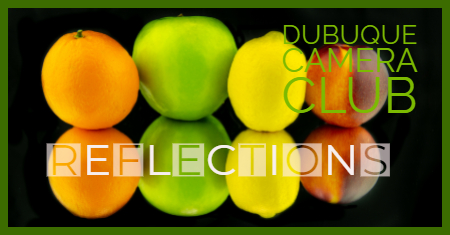 Photography by members of the Dubuque Camera Club will be on display this fall during the club's 7th annual exhibit at the Dubuque Museum of Art in downtown Dubuque. The exhibit is scheduled to be on display from September 21 to November 10, 2019.

The club discussed details during the April 1 meeting. General Bob and Pamela are helping to organize the exhibit this year, and have been looking at printing options. One option is to have the images printed on metallic paper, then buying a bunch of identical frames, and holding a special summer meeting to frame and mat our own prints. This option would probably be the cheapest. However, it was vetoed during the meeting as being too complex to organize.
Instead, the club decided it would be simpler to have them printed on aluminum, like last year. It works better to send in one large order, as opposed to ordering individually. If we order all at once, nobody gets prints that lack vital hanging hardware, or are different than the rest (as unfortunately happened in the past).
Remember, exhibit details may change as we move forward. For that reason, it's important to attend meetings and read your club emails. For the latest exhibit guidelines, see below:
Reflections theme. Use your creativity when responding to the theme. For instance, it's OK to submit a portrait of somebody pondering a deep thought, because that is a "reflection." Also think of mirrors, bodies of water, refraction, shadows, and windows at night. Think about what sort of image you would like to have hanging on your wall, because you will get the print back after the show ends.
Image dimensions. We will again be ordering 12-inch by 18-inch metal prints (optimal size in pixels: 3000×4500). Orientation can be either landscape or portrait. Submit JPGs only (use RGB). 200 dpi or greater. No watermarks. Remember, unlike N4C submissions, there are no strict upper limits on file size.
Filename. Use your member number in the filename, along with the title of the image. Do not put your name in the filename. We are doing it this way because the museum needs to curate the images anonymously.
Deadline. Reflections submissions are due before our potluck picnic on June 3rd. Submissions will be posted in the club's Smugmug gallery. We are still working out how to process the submissions. Right now, if you have an image to submit, send them to Ron or Ken and make it clear in your email that it is for Reflections. Use"Reflections submission" in the message subject.
Inclusion. Participating in club exhibits is one of the perks of Dubuque Camera Club membership. The exhibit is limited to club members in good standing ONLY. There will not be a call for artists and it is not open to the public. To participate, your club dues need to be paid for the current season AND, ideally, you need to pay your dues punctually in September when the new N4C season starts.
Cost. We hope to have (at least) one print chosen by each member who wishes to be the exhibit. The cost of each print will probably be in the range of $50-70. Each participating photographer will need to decide how many prints they are willing to pay for, and whether they would be open to having multiple prints in the show. (Last year the club had a total of 20 prints in the show.) Tentatively, the club will give each participating club member a $20 subsidy toward the cost of one print only. Prints will need to be paid for in advance, with exact details to be sent out by email to participants.
Timeline. We will look at the submissions during our June 3rd picnic (Submissions are due by June 3). Sometime in June or July, the museum curator will choose which images to include in the show. After final selections are made, payment will be collected from participating club members, and then prints will be ordered as a group. Each participant will be asked for biographical information (or a brief artist's statement) and will also need to sign an Incoming Loan Agreement for the museum.
Again, these details may change as we move forward. For that reason, if you would like to participate in this year's DuMA exhibit, it's important for you to attend meetings and read your club emails.
Reflections timeline (future dates are tentative/subject to change)
► Jan/Feb: Discussion of exhibit theme ideas.
► Feb 18: Club members vote in a poll. Reflections chosen as a theme.
► March 4: Exhibit committee chosen: Robert Felderman, Pamela Brandt
► April 1: Club decides to order 12×18-inch metal prints like last year. Various other details decided.
► May 20: Reflections images may be (but don't have to be) submitted for Critique Night.
► June 3: All reflections submissions are due. Members can send initial images to be posted in an online gallery.
► June/July ___? Art museum staff will make selections. Club members with image(s) in the show must send in final high res images. Payment will be required before prints are ordered. Any subsidy will be per photographer (NOT per print).
► Aug. ___? The prints will be ordered as a group.
► Sept. ___? Prints to be delivered to museum.
► Sept. 21, 2019: Exhibit opens.
► Oct. 4? First Fridays reception / Fall Into Art gallery tour (tentative)
► Nov 10, 2019: Exhibit closes. Club picks up prints from museum.
► Dec. 2, 2019. Remaining prints may be picked up during the club's holiday party.
---
---