The Dubuque Camera Club will meet on Monday, Sept. 7th, starting at 6:30 p.m. This meeting will be VIRTUAL.
Dubuque and tri-state area photography enthusiasts are invited to attend. Get to know us, and see what the club is all about. For more information about club membership, see the new FAQ.
This is the first meeting of the 2020/2021 N4C season. (The N4C season runs from Sept. through May).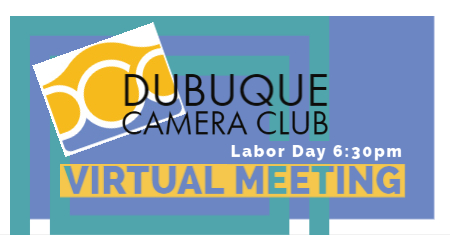 If you have received club emails in the past, look for Zoom meeting details in your email. If you're a tri-state photographer and want to receive club emails, send an email to dubuquecameraclub@gmail.com
Annual dues of $20 are due. You can now pay your club dues online! Or mail in an old-fashioned paper check by printing the Membership Application form.
Submissions to the N4C monthly photography contest are due before the meeting. You must have a member number to submit. To learn more about submitting to monthly N4C contests, see the competition page.
---