The Dubuque Camera Club meeting on February 18, 2019, was attended by 19 people. Our club judged 112 photos from other clubs in the Digital Black and White category of the monthly N4C competition. Bob Felderman, Andreas Exner, and Kevin McTague served as judges. Ron Tigges, Ken Kiss, and Cara Pusateri also helped with the judging process.
Using N4C competition rules, photos are judged on the basis of Technique, Composition, and Interest, with a maximum score of 5 from each judge, in each area. The hypothetical perfect photo would score 45 like this:
| | | | |
| --- | --- | --- | --- |
| | Technique | Composition | Interest |
| Judge #1 | 5 | 5 | 5 |
| Judge #2 | 5 | 5 | 5 |
| Judge #3 | 5 | 5 | 5 |
In the B&W category, duo-tone or sepia images are fine. Images that are sized at 1920x1080px will fill up a widescreen monitor with a 16:9 aspect ratio. To learn more about N4C rules, visit the competition page on the N4C website.
N4C submissions:
File size: up to 750KB
Dimensions: 1920 px on longest side
(recommended: 1920x1080px which is 16:9)
Crop to best advantage!
Next submissions are due by March 4th
How to enhance a photo's composition
It was very clear from the photos we looked at during judging that a photographer should always crop to enhance the composition. When judges are looking at over 100 photos, those that are composed carelessly are passed over. The choices that you make while cropping can make or break an image.
For instance, look at the edges of your photo. Are tree branches framing the subject in a good way, or will the viewer perceive them as protruding obnoxiously into the composition? If so, crop out or erase the offending items. One option is to use the Spot Removal Tool in Lightroom.
When you crop, consider symmetry and leading lines. (Remember, there's more than one kind of symmetry.) In Lightroom, when you are cropping an image, press the letter O on your keyboard to cycle between crop overlay grids (rule of thirds, golden spiral, etc.) This will help you to enhance your image's composition for the best effect. Click here to learn more about how to do this in Adobe Lightroom Classic.
When you are selecting among your images, remember that no matter how cute or adorable that snapshot of your pet or farm animal is, it's still a snapshot. Likewise, an interesting subject that is portrayed from a poor angle will not stand up in competition. Be very cautious about putting the horizon line smack dab in the exact center of your picture. And don't over-sharpen or over-process!
The best photos result when a photographer takes the time to be thoughtful about how the subject is portrayed. And don't give up! Sometimes, the likes or dislikes of individual judges make all the difference. For example, an all-male judging panel, because of their idiosyncratic likes and dislikes, may utterly dismiss an exquisite and well-lit flower, yet irrationally give fives to a naked lady hood ornament!!! (This is a hypothetical example, of course… Just saying.)
The club took an intermission at or around the 62nd photo so that Ron could thumb-wrestle with projection technology. He was able to untangle the problem so that judging could continue. Thanks to everyone who attended the meeting!
Upcoming meetings
► On Sunday, March 3rd at 1:00 p.m., club member Andreas Exner will give his presentation on Storytelling in Wildlife Photography. This presentation was rescheduled from an earlier date due to weather. Learn more here.

► The next Dubuque Camera Club meeting will be on Monday, March 4 at 6:30 p.m. Send in your N4C submissions by or before the meeting. Specifics are in past emails to club members. Because we judged this month, our club can submit double B&W in March. The club is planning to discuss mirrorless cameras. These innovative new cameras are an alternative to DSLR. If you have an interest or expertise in this topic, please contact club president Ronald Tigges and/or plan to attend this club meeting!

► At the meeting on Monday, March 18, we will enjoy a presentation from Henry Matthiessen III about the Magic of the Histogram. The public is invited. Learn more here.
---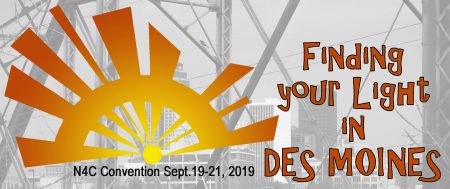 Finding Your Light
The Des Moines Camera Club will host the 2019 N4C convention, Finding Your Light, from Sept. 19-21. The event will be held at the Sheraton West Des Moines Hotel, located at 1800 50th St. in West Des Moines, Iowa 50266.
Keynote speakers will be Don Komarechka and David Thoreson. Click here to learn more about them.
For more details and registration materials, visit the Des Moines Camera Club website. You can also follow the Finding Your Light page on Facebook.
---
Other photography news
• DSO concert photos. In other news, a few club members have had their original digital photos used in a photography slideshow during a Dubuque Symphony Orchestra concert this year. (Congrats!)
• DAWG. The Dubuque Area Writers Guild is accepting black and white photos for its annual anthology, which will be released at DubuqueFest in May. Submit by email by April 1st. More info here.
• Twin Cities opp. A group of photography clubs in the Twin Cities sponsors an annual "Spring Break" event with a full day of photography tips and presentations. It will be held on March 30, 2019, with registration due in advance. More info here.
• Nature field trips. The Natural Resources Foundation of Wisconsin sponsors a LOT of field trips throughout the year, some of them within a reasonable driving distance from Dubuque. In 2019, three field trips are specifically for photography — although you can probably take pictures on all of them. They also sponsor an annual photo contest which is limited to photos taken during these field trips. You must be a member of the organization to register (membership is $25). See their 2019 Field Trip Guidebook.
• N4C Mini-con. In addition to the big annual fall convention which our club hosted last year (Blufftops & Visions), the N4C organizes an annual mini-convention. It will be held May 3-5, 2019 in rural Indianola, Iowa. You must register by April 17. More info on the events page.