Fourteen people attended the Dubuque Camera Club meeting on Monday, November 4, 2019. Club president Ron Tigges started the meeting by reviewing all the fun we had during the Light Painting workshop. He gave out some leftover gadgets so people can try these techniques at home. The club is grateful to Lori Burrows for graciously sharing her images on social media so we could all be there behind the camera.
HOLIDAY PARTY The next item on the agenda involved looking ahead to the upcoming meetings. The club voted to hold our annual Holiday Party and Potluck on Monday, December 2nd, starting at 6:00 p.m. This is very early in the holiday season, so hopefully it will work out for everyone.
Club members are asked to bring a (delicious!) potluck dish as well as spouse, significant other, or family members. As in previous years, the club will purchase the main dish and provide tableware. We need to know how many people are coming so we know how much food to order. Please watch your email for an RSVP form.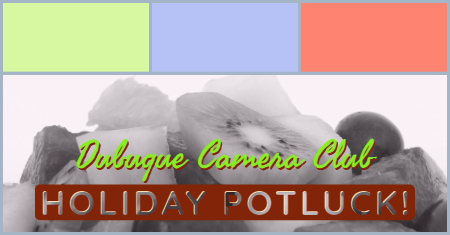 REFLECTIONS. General Bob has offered to bring the Reflections prints to the Nov. 18 meeting. Any leftover prints may be picked up at the Holiday party. Unclaimed prints will be wrapped up and taken to my aunt's house for a white elephant with my cousins. (Joking!)
Ron reminded the group that we need to be thinking ahead to next year's DuMA exhibit. Scroll through your pictures and think about what might work as a theme. Local or regional pictures are best. Once we come up with potential exhibit themes, we will probably poll club members to decide which one to use. We will talk more about the 2020 exhibit at future meetings.
INTELLECTUAL PROPERTY. In the national news, PPA has succeeded in getting the CASE act passed by the House of Representatives. Here's their news release about it. The bill makes it easier for photographers to go after those who steal their images. Right now, if photos are used without permission by an unethical business or individual, only photographers with deep pockets can do anything about it. The CASE act will let you take those slimeball image thieves to small claims court.
Remember, whenever you enter a photography contest, be sure to read the small print. Some of our club members have been burned that way. In some contests, by entering, you are giving them a perpetual free license to use your photo anywhere they please. Just because it's a tourist organization (or just because they have a word like Iowa or Wisconsin in their name), doesn't mean they respect intellectual property.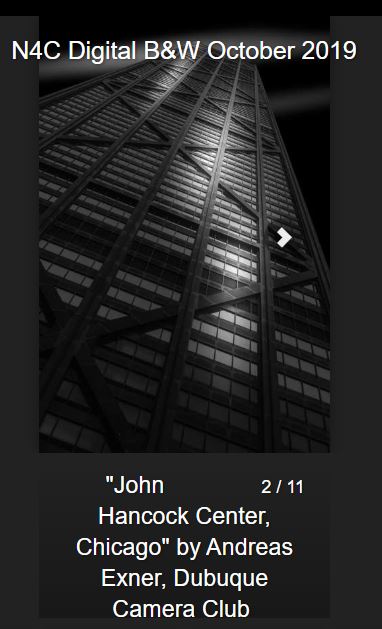 October 2019 contest returns
The club went over the returns from the October contest of the N4C competition. Four of our club members received recognition. Congratulations to the following awesome photographers!!
Andreas Exner, 2nd place, digital B&W, "John Hancock Center, Chicago"
Andreas Exner, merit award, digital nature, "Great Egret on the Mississippi River"
Ken Kiss, merit award, digital journalism, "Fishing Buddy"
Kevin McTague, honorable mention, digital nature, "Cardinal"
Kevin McTague, honorable mention, digital nature, "All Natural Light" (Hummingbird in sunshine)
Ron Tigges, merit award, digital pictorial, "Sunset Glow on the Des Moines Dam"
Ron Tigges, merit award, digital B&W, "Evening Light on Pewit's Nest"
---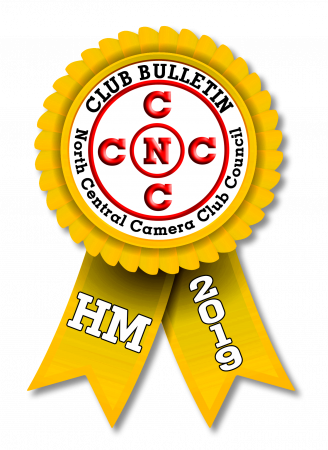 CLUB COMMUNICATIONS AWARD. In other news, the N4C sent us a 948KB PNG for being awarded Honorable Mention in the Club Communications Bulletin Award. There are no rules for that competition, and there's a lot of confusion in their ballpark about the difference between print and digital. They also don't fact check much. First, they said that Ron wrote it.
To celebrate the occasion, the N4C ran my last meeting notes, about the Light Painting workshop, in their deliciously designed November newsletter, without giving me a byline or credit. In some universes, writers get paid for their work. But I guess the snake can't taste its own venom. My tarot cards are telling me that if they make any money on it, I may someday see the inside of a small claims court.
Speaking of which, at the conclusion of tonight's meeting, this author received some interesting feedback about the Meeting Notes on this website. One of the long-time club members (I won't say the whistle-blower's name, but it starts with K-e-v-i-n), commented:
"I really enjoy reading the meeting notes. In fact, they are so good, they are usually better than the actual meetings. The last one I had to read twice, because I wasn't sure it actually happened, it was so funny."

— Kevin, the Whistle Blower
Gee Kevin, you are just in time to sign up for a long, dull lecture at the local community college about the difference between fact and fiction! We all know there are no spur snags in the carpet at the nature center!
That rumor started because of all the photos of the Alamo that were submitted to N4C competitions this year. I am right now putting it on my calendar to fact check with Sam about what spur marks look like — he's from Texas — that is, if he ever gets his member number from the pelicans circling over the East Dubuque car show (or maybe that's why they moved it?).
Upcoming club events…
The next Dubuque Camera Club meeting will be held on Monday, November 18 at 6:30 p.m. On the agenda will be Five-minute Tips and Tricks, plus a Photo Critique. Click here for more details. Club members, watch your email for a reminder.
The club's annual Holiday Potluck Party will be held on Monday, December 2 at 6:00 p.m. Note the date change and the early start time. Club members are welcome to bring spouse, significant other(s), or family members. Also bring a potluck dish to share. See your email for a link to the RSVP form.
Our club will have a table at the Dubuque Bald Eagle Watch on Saturday, January 18 at the Grand River Center. We will be looking for volunteers to organize this event. Learn more at upcoming meetings.
---