Our potluck picnic on June 4 was a success! Twenty-five people attended. The food was excellent. Much discussion happened and next year's officers were (re-)elected. The company was lively and the food was terrific!
2018/2019 Dubuque Camera Club Officers
---
• President: Ron Tigges
• Vice President: Ken Kiss
• Treasurer: John Leicht
• N4C Reps: Cara Pusateri and Ken Kiss
• Communications: Pamela Brandt
• Public Relations/Events: Jennifer Tigges
BLUFFTOPS & VISIONS
Also at the meeting, Jennifer gave us an overview of Blufftops & Visions. The American Lady river cruise will be a highlight, so please put it on your calendar and plan to go! Remember, in order to make this convention a success, we need volunteers, models, swag bag items, door prize items, financial sponsorship, and volunteers.
Here are the club members who have graciously volunteered their time thus far:
Leo Heim has been appointed official documentary photographer for Blufftops & Visions. He will also assist with setup and teardown in the N4C print room.
Jose Garcia is serving as our speakers' coordinator. He will also lead a post-processing workshop.
Lois Pancratz and Eleanor Schueller are in charge of convention registrations.
Jennifer Tigges and Pamela Brandt have been handling digital communication and social media.
Ron Tigges is facilitating the Shot Tower photoshoot. He will also lead the bird photography panel presentation and the refractography seminar.
Kevin McTague and Ken Kiss will take part in the bird photography panel presentation.
John Leicht will introduce keynote speakers and be the voice of N4C presentations at banquets.
Greg Nauman will assist with the Millwork shootout and with visitor hospitality.
Laura Schuster is in charge of banquet planning.
Chris Ross will provide music on Friday.
Cara Pusateri and Jesse Green will assist as needed.
NOTE: This volunteer list is tentative and based on discussion at the past several club meetings. If you notice any errors or omissions, please contact Pamela.
INCENTIVE! It has been proposed that convention volunteers will receive a discounted price for Blufftops & Visions registration after the financial break-even point for attendance is reached.
If your name is not on this list and you would like to volunteer, please contact Jennifer, and/or fill out the volunteer form.
SEEING RED
Thanks to everyone in the club who sent in their RED photos for this year's Dubuque Museum of Art exhibit. About 60 photos have been received so far. You can see the submissions in this gallery. Over the next few weeks, the museum will be narrowing down their selection (to about two dozen), and individual members will then be contacted for high-res images to print.
Remember, members will need to pay up front for their prints ($55-60). However, if the convention is a financial success, it has been proposed that each member whose photos are selected for the exhibit will receive a stipend. For that reason, it is vital that we all work together to make Blufftops & Visions a success!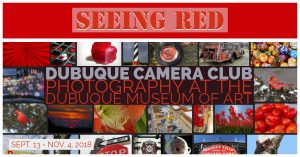 GET YOUR CLUB T-SHIRT
The club discussed and approved the idea of ordering club shirts. Matching shirts will make it easy for out-of-town participants to identify Dubuque Camera Club members at the upcoming Blufftops & Visions convention. We can also wear them at other club events.
Lois volunteered to chair the t-shirt committee. Jennifer has also come up with some alternate options for shirts. Baseball-style caps are a possibility too. Our Facebook group has seen some discussion about these options. Our club logo will be on any shirts or hats that are ordered.
Right now, there is an online poll to gauge interest in various colors and styles. As of June 23, the results were leaning toward gold. Club members only, you are welcome to vote in the t-shirt poll. Responses must be received by July 1st.
If you have questions or would simply like to add your name to the list to get a shirt, please contact Lois with your size and let her know (est. cost $12-15). See your email for contact details.
---
Upcoming events
The current exhibit at Art @ Your Library, located in the rotunda area of the Carnegie-Stout Public Library, contains a couple of photos by club member Gary Fagan. An upcoming exhibit, opening in August, will feature photography by General Bob Felderman.
Summer meetings: The regular N4C meeting season has finished. However, due to the impending photography convention, we WILL have impromptu club meetings this summer. Notice of summer meetings will go out by email. Club members, make sure to read any and all emails from the Dubuque Camera Club! They will contain important information!
Tuesday, Sept. 4 @ 6:30 p.m. – First regular club meeting of the upcoming season.
September 13-14-15, 2018 (Thursday-Friday-Saturday) Blufftops & Visions N4C Photography Convention in Dubuque!
Remember, if you have news about area photography-related events, or any information that is of general interest to club members, you are welcome to post it to our Facebook group.