The first Dubuque Camera Club meeting of the New Year was held on Monday, January 7, 2019. It was attended by 21 people. We were delighted to welcome several new members from the Galena area. Thanks for coming, Marie, Karen, Tim, Richard, Celeste, and Henry. We hope to see you again soon!
Remember, if you are not yet receiving club emails, but wish to, give your email address to Pamela or to another club officer during a meeting. We use email to communicate, and to send out detailed reminders of upcoming events. If you are interested in joining the club, please know that one perk of membership is being able to submit your photos to the monthly N4C competition. Click here for a membership application.
At tonight's meeting, after everybody in attendance introduced themselves, club president Ron Tigges gave a quick overview of how our club works. We meet twice a month in an N4C season that runs from September through May, with activities planned throughout the year, based on the interest of participating photographers. As a club, we've participated in photo shoots, workshops and presentations.
Our club has been featured in an annual exhibit at the Dubuque Museum of Art for the past six years. We have also exhibited at the Carnegie-Stout Public Library for Art@Your Library, and have been part of Dubuque Main Street's Fall Into Art, as well as the Dubuque Bald Eagle Watch, which is sponsored by the Dubuque Audubon Society. [This year's Eagle Watch will be held on January 19th.]
In September 2018 the Dubuque Camera Club hosted around 120 visitors to Dubuque for the 62nd annual N4C convention, Blufftops & Visions. If you would like to see Blufftops & Visions event photos, visit this gallery.
Our club belongs to the N4C, a group of 37 midwestern photography clubs. We compete in the following six digital categories:
DA – Altered Reality (was Digital Creative) [For your Photoshopped creations, the wilder the better].
DN – Nature [No "hand of man" or commonly cultivated plants].
DJ – Journalism [Judged using different criteria].
DT – Travel [Must have the city/state or specific location in the filename].
DB – Black and White [Sepia or duo-tone is OK].
DP – Pictorial [A catchall category for appealing photos that don't fit elsewhere].
A competition photo should be no more than 1920 pixels on its longest side. For the best appearance, Ron suggests sizing your photos at 1920×1080, which is a 16:9 aspect ratio for widescreen displays. However, it is acceptable to submit a square photo that is 1920x1920px. File size is limited to 750KB.
To learn more about specific guidelines for N4C submissions, visit their web page. If you are looking for a step-by-step tutorial for how to export your submissions in Lightroom, click here for a five-minute video. If you want to know what filename to use for your competition images, click here. You can also find hints on our competition page.
Know your club member number, because it is yours forever, even if you disappear for a looongg stretch of time, such as to Florida or into the mountains (or shopping in Galena?). You must have your club dues paid up-to-date to be eligible to submit ($20 annually). Here is a link to our Smugmug site where you can see past club submissions.
Submissions are due before our first meeting each month. [If you would like to submit to the next competition, the deadline is February 4, 2019]. With the exception of Nature and Black and White, which are sent to Ken Kiss, send your submissions by email to Cara Pusateri. (Confused? Read club emails or follow our Facebook group.)
This just in…
One question raised at the meeting was whether we will be exhibiting at the Dubuque Museum of Art in 2019. The answer is YES!!! However, in order to make this show into a reality, we will need volunteers to help and assist. First, as a club, we need to decide on a theme. This is very important because a theme will guide and focus the whole exhibit.
In addition, someone needs to assist with the many organizing details, such as accepting submissions, facilitating curation, getting prints made, collecting payment, delivering, and taking down the show. We will be discussing these ideas at future meetings.
Weekly Photo Challenge
The Black Hills Photography Club has been drumming up participation in their Facebook group by posting weekly photo challenges. In addition, Petapixel recently posted a list of 52 photo challenges for the new year. At the meeting, we took a vote on doing the same type of activity in the Dubuque Camera Club's Facebook group. There was a lot of interest from club members, so look for future opportunities to participate in similar photo challenges!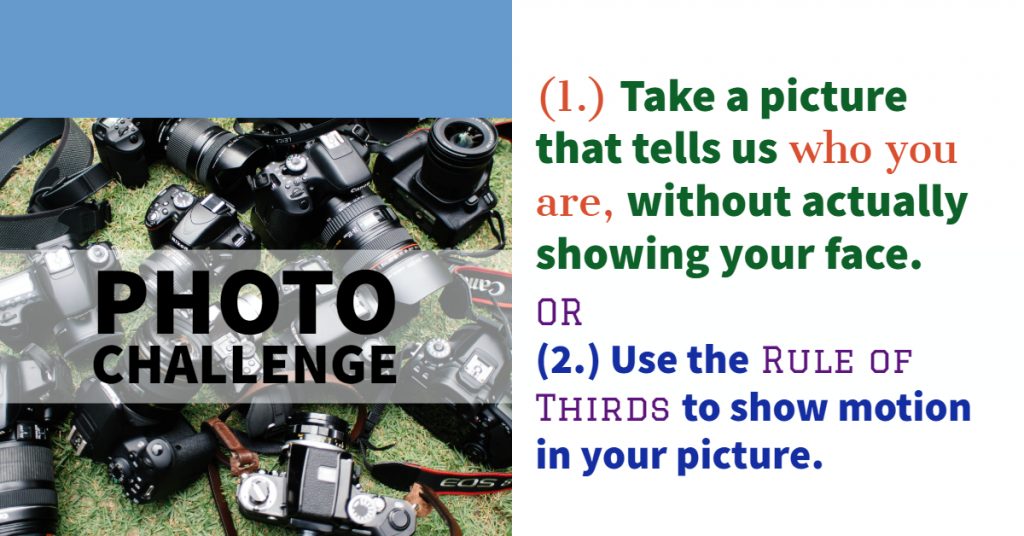 Upcoming club events
Thursday, January 10 @6:00 p.m. Wild Bird Photography. Presentation by Ron Tigges, Ken Kiss, and Kevin McTeague. More info here.
Saturday, January 19, 9:00 a.m. to 4:30 p.m. Dubuque Bald Eagle Watch at the Grand River Center. More info here.
Monday, January 21 @6:30 p.m. Club meeting.
The agenda will be a flash/lighting workshop, so bring your gear. Contact Ron if you have questions.
Monday, Feb. 4 @6:30 p.m. Club meeting. Submissions are due before the meeting. No Black and White submissions.
Monday, Feb. 18 @6:30 p.m. Club meeting. Our club will judge the Digital Black and White category of the N4C competition.
Three "volunteer" club members will be needed as judges. There are always a lot of terrific photos for audience members to enjoy and learn from, so be sure to attend!
Sunday, Feb. 24 @1:00 p.m. Storytelling in Wildlife Photography. Club member Andreas Exner will share his presentation again. If you missed it in November, here's your chance to enjoy his many lovely nature images and photography tips.
Other photography events & contests
♦ Broad Ideas submission deadline: Feb 8th. Women are so often talked down or overlooked in groups, especially in the realm of photography, where the loudest voice and the snazziest expensive equipment prevails. You can tell your story in a special exhibit at The Galena Center for the Arts. Last year, two of our club members participated. You can enter up to three pieces of artwork (i.e. prints). No cost to enter. Visit the Broad Ideas website to learn more.
♦ Bereavement Photography Training. The Iowa Chapter of Star Legacy Foundation is building a volunteer base made up of photographers willing to come to the hospital and take photographs when a family has lost an infant. They will be offering a training on Feb. 23rd. Learn more from their event on Facebook.
♦ DuMA Biennial. Deadline: March 14, 2019. If you are ready to enter your prints in a juried show, consider the Dubuque Museum of Art Biennial. There is a charge to enter. More info on the museum website.
♦ Audubon Photography Awards. If you're sitting on some world-class bird photos and are ready to compete with the big boys for serious cash prizes, consider entering the National Audubon Society's competition. The birds must have been photographed ethically. Deadline: April 8, 2019. More info on their website.
♦ N4C Mini-Con, May 3-5, 2019, in rural Indianola. In addition to the big annual convention, the N4C also sponsors a "mini" convention. In 2019 it will be held in a natural area called Wesley Woods, located south of Des Moines. Dorm rooms will be available onsite, or you can camp or stay at a hotel. Mark it on your calendar and watch the N4C website or bulletin for more details TBA.
♦ Wildflower photography/videography. If you like nature photography and would like to know more about native wildflowers, you will enjoy a current exhibit in the Galena Center for the Arts. Richard Pearce carried a full-size scanner into the woods and prairies in order to capture the details of midwestern native plants in bloom. As a result, his prints are exquisite. Recommended for nature photographers who wish to learn more about wildflowers in our area. Click here for more about Richard Pearce.