Vice president Kenneth Kiss led the January 20, 2020 meeting of the Dubuque Camera Club. He organized the photos that he received for the evening's mini-presentations. He ran the technology and also took care of the meeting space. Great job, Ken!
Dubuque Bald Eagle Watch followup. At the meeting, there was some discussion of the previous weekend's Bald Eagle Watch. Ken, Andreas, Kevin, and John were our committee for that event. They set up and displayed club member's nature photography on easels and in an onscreen slideshow. They also promoted the club and handed out the updated Dubuque Camera Club brochure.
Those of us who were housebound that weekend due to the Snowpocalypse of Doom wondered what it was like. "We did all right," said Ken. "I think the snow kept some people away."
One of the live bird presenters had to cancel, but the other went on as planned. "I was surprised by how many people were there," said Andreas. "The second presentation, especially, was well-attended."
Thank you, gentlemen, for representing our club at this event!
---
Upcoming club exhibits
Photography exhibits were also discussed during the meeting. The club plans to organize TWO exhibits in 2020. Participating in club exhibits is one of the perks of Dubuque Camera Club membership. Only active members may participate.
Dubuque Museum of Art exhibit. This year's DuMA exhibit is scheduled to run from September 26 through October 25, 2020. The club is tentatively going with a tree theme.
Why trees? For one thing, they are extremely important to bird and nature photographers, as well as to the planet. Here in the Driftless area, we have opportunities to portray trees and woodlands that are not present elsewhere.
"The tree theme has the biggest potential of getting the largest number of club members involved," Andreas said.
Another advantage to a tree theme is that it ties in with the Iowa DNR's Parks 2020 centennial. The Friends of the Mines of Spain will be organizing some activities locally (including a photography contest!). This summer, the art museum will host a traveling multimedia exhibit called 20 Artists, 20 Parks. Our club exhibit will occur after it closes.
It is clear from recent Facebook posts that some club members are already scouting the countryside for tree photo opps. Please look at your photos to see what you have, and think about how you can contribute. Creativity in interpreting the theme will be encouraged.
For the DuMA exhibit, we will order matching prints as a group, like we did for Reflections. Many details still need to be worked out, with specifics to be discussed at future meetings.
Smokestack exhibit. Thanks to General Bob for arranging a club exhibit at the Smokestack. This exhibit is tentatively scheduled for June-July-August. We took a vote during the meeting to see who was interested, and 100% of the meeting attendees raised their hands.
The Smokestack exhibit will be an eclectic show (no theme). Club members will need to order and frame their own prints. There's lots of wall space, with room for larger sizes. You can put a price tag on your images and mark them for sale. Only about 25 total prints can be in the show, so there will be some kind of jurying process. The club can also display a slideshow. More details will be announced as we learn them.
---
The Story Behind the Photo
"The Story Behind the Photo" was the main activity at the January 20th club meeting. Club members were supposed to email up to five of their photos to Ken Kiss before the meeting, and then talk about them. Seven people opted to participate in these mini presentations:
Greg Naumann wowed the crowd with his starting image of two cute little girls in a studio portrait. Then he shared 23 more pictures, ranging from dogs to machines to an old family portrait on the beach. When he got past five, Greg kept going. I don't think we should ask him to do any math problems.
Casey Klein shared a couple of cute images, including a huge snowman on Grandview Ave. Thank you, Casey!
Jim Durrant shared some architectural photos of Frank Lloyd Wright structures. He had gotten perplexing N4C contest feedback, and wanted to get the club's opinion.
Henry Matthiessen III showed a couple of spellbinding images, including the Galena trainwreck as viewed from Bellevue State Park. On Thursday, January, 23rd, he gave a longer presentation at Pechakucha. Wonderful work, Henry!
Ken Kiss gave us two gorgeous versions of a view from the overlook at Whitewater Canyon.
Debbie Denlinger sent in her pictures, but didn't realize that she had volunteered to talk about them. A good sport, she did it anyway. Debbie makes greeting cards out of her photos.
Kevin McTague impressed the club with some of his bird photography secrets. Kevin, if you tell us all of your tricks, pretty soon our skills will be as good as yours! [Just joking! That will never happen!]
Lastly, Ken Kiss did a brief demonstration in Photoshop about how to create a frame around a photo.
Thank you to all seven club members who volunteered for this photography show and tell. We enjoyed it!
---
Nature photography presentation followup. A couple of club members gave a nature photography presentation at the Mines of Spain on Sunday, January 12, 2020. The event was attended by about 30 people. Club president Ron Tigges did a great job of promoting the club.
Ron also made the kickoff announcement of the Mines of Spain photography contest. [Note that our club will judge this contest; if you want to enter, you cannot participate in judging. Contact Ron with any questions.]
A photography presentation followed the contest announcement. Three club members presented. "Shooting a Better Photo" was Ron's theme. He used this acronym:
C – Composition
E – Elements in the scene
L – Leading lines
L – Light
Next, Ken Kiss shared his beautiful images of birds, owls, and winter hikes in the park. Lastly, Andreas Exner shared his lovely photos of foxes, sandhill cranes, and other living creatures. He reminded us that there is a right and wrong when doing nature photography: "The critter's health is more important than your picture."
Thank you for an enjoyable Sunday presentation!
---
Kudos and other news
We have heard about the following kudos and activities by club members:
Bob Felderman was selected for a Finalist Award in the Artist of the Year 2019 competition that was sponsored by the Circle Foundation for the Arts. He submitted "House Fire On Airport Property." In January 2020, General Bob also earned a Certificate of Excellence as one of the 60 finalists in an Artavita contest.
Pamela Brandt had at least one photo of the Mines of Spain included in an Iowa State Park Centennial book called "Iowa State Parks: A Century of Stewardship." This opportunity came because she posted her MoS images on Flickr. The book is on pre-order for $30, but will sell for about $50 later on. More info here.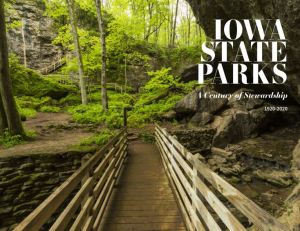 Jose Garcia will be leading an exclusive Photoshop class in March 2020. He has been posting some lovely ballerina images on his Facebook page. We have also heard he photographed the Wahlert high school show choir again this year.
Henry Matthiessen III presented at Pechakucha on January 23. Since he moved his studio to Dubuque, he has also added Dubuque art destinations to the Scenic Art Loop. A release party will be held on Feb. 6 at Stoned Art Studio on the Central Ave. curve.
Ron and Jennifer Tigges attended 2020 ImagingUSA, which is the annual convention of the Professional Photographers of America. A couple of sneak peaks have appeared on their Digital Dubuque page, and we hope to learn more about this experience at the next club meeting.
What's coming up for the Dubuque Camera Club?
Take a look at the Events page.
---