Need a challenge over winter break? Here's a round-up of photo contest winners and opportunities…
Inspirations. Don't forget, the Galena Center for the Arts is looking for Inspiration-themed photos and artwork for an upcoming virtual exhibit. Submit up to 3 images at 300dpi (the virtual exhibit will be printed too). You'll need a headshot and some text to go along with your images. Deadline is Jan. 22, 2021. See their past virtual exhibits for ideas. For more information, email: gallerymanager@galenacenterforthearts.com
Aviation Photo Contest Winner. Here's a shout out to Robert Felderman of General Bob Photography. He heeded a call for submissions and entered the Iowa DOT 2019-2020 Aviation Photo Contest. Two of his photos were selected as winners! In the "Air to Ground" category, Bob took home both 2nd and 3rd place! Good job, General Bob!
Note that if you are a South Dubuque homeowner who receives Neighbors of South Dubuque magazine, you will also see two of General Bob's drone photos published in the January 2021 issue.
Transportation Photo Contest. There is still time to have your photo recognized by the Iowa DOT. Deadline for their Transportation Photo Contest is Feb. 1, 2021. Click here for details.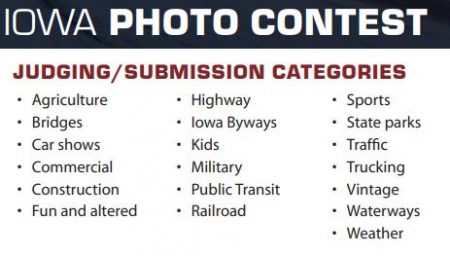 Jose Garcia, another local photographer and prior club member, was recognized in the 2020 Photographic Society of America (PSA) Council's Challenge. His image "Smoke" won first place in Black and White and also earned Best of Show. Dubuque Camera Club members will recognize Jose's portrait as a prior N4C winner from our club. The photo previously earned second place, Digital Black and White, in the N4C end-of-the-season competition in 2018/2019. Jose plans to lead a photography workshop on January 16, so tune into his online presence if you want to learn his digital secrets!
Keep Iowa Beautiful. If you didn't enter the Keep Iowa Beautiful Photography Contest this year (deadline was Dec. 18), that's okay, because you can still enjoy the winners. According to their website, in January the public will be able to vote on favorite entries on their social media accounts.
Buchanan County nature photos. If you ever get over to nearby Buchanan County, Iowa, the Fontana Nature Center is sponsoring a nature photo contest. You don't have to be a resident, but the pictures DO need to be taken (by an amateur) in Buchanan County. Deadline is Oct. 1, 2021. See more info on their website.
Silos & Smokestacks. All the 2020 entries to the "Capture the Heart of America" photo contest are now posted to the Silos & Smokestacks Flickr account. This is an annual rural/agriculture themed contest. Scroll down to *Tags* to see the name of the photographer. You can also see just the winners on their website.
Wisconsin Great Waters Photo Contest and Writing Project. Looking for a place to submit your awesome Mississippi River photos? Here's an option from the Wisconsin DNR: the Wisconsin Great Waters photo contest. Enter up to three high-res images by Feb. 1, 2021.
---
Do you know about other photo contests and opportunities? You are welcome to share photography-related news in the Dubuque Camera Club's private group on Facebook.