Club Meeting – Light Painting workshop – Oct. 21 @ 6:30
October 21, 2019 @ 6:30 pm

-

8:00 pm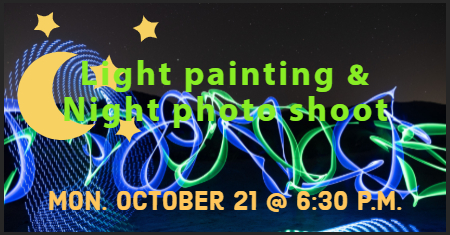 The Dubuque Camera Club will meet on Monday, October 21, 2019 at 6:30 p.m. Location: E.B. Lyons Interpretive Center, Mines of Spain. All tri-state area photographers are welcome to attend.
We are planning a light painting activity. Depending on the weather, we will also go outside for a night photoshoot. Bring tripod and gear.
You may want to practice long exposure photography before the meeting. If you are willing to hold the lights for light painting, be sure to wear dark clothing. For going outside: Dress warmly and wear your hiking shoes. You may want to bring a flashlight and/or binoculars (for looking at the moon/stars). More details will be emailed to club members.
See the links below for a couple of good light painting tutorials: