On December 2, 2019, the Dubuque Camera Club held a holiday party that was attended by 34 people. In addition to club members, we enjoyed the company of spouses, significant others, and at least one guest photographer. The club provided poinsettias, punch, cute plates, and hot sandwiches. Club members added to the delicious banquet by bringing potluck dishes. A tempting variety of food was enjoyed by all.
Club business
A poll has been posted to the club's Facebook group to help decide the theme for our 2020 exhibit at the Dubuque Museum of Art. As of this writing, top poll choices are (1) Tri-state trees, and (2) Downtown faces. Make sure to cast your vote. You can also contribute theme ideas to the poll.
The advantage of choosing a nature-related theme for our next DuMA exhibit is that it will tie in with Parks 2020, a state-wide celebration of the 100th anniversary of the Iowa state parks system.
Our club will either judge or participant in an upcoming photo contest that is sponsored by the Friends of the Mines of Spain. This is also an event for Parks 2020. We don't know the details, except that it will be prints.
The key opening event for the local celebration of Parks 2020 will be a nature photography presentation. It will take place on Sunday, January 12, 2020 at 1:00 p.m. at the nature center in the Mines of Spain. Club president Ron Tigges is leading this team presentation. He is anxious to have other club members join him at the front of the room. The total time allotted for the entire group is 45-60 minutes. Your photos should have been taken in the Mines of Spain. Contact Ron for more info.
The club is in good financial shape, according to treasurer John Leicht. We pay for facility use, website hosting, N4C membership, and of course, food for events like our holiday banquet! It's possible to sponsor a speaker or another special event. As always: ideas, ideas, ideas. Speak up at the next meeting if you have an idea.
Jennifer is now an N4C board member, so she and Ron get to observe all that delightful board harmony up close. Potentially, our club will host the annual convention in Dubuque again in 2023. Expect confusion about the upcoming 2020 event because two "Sioux" clubs are hosting. If you are there to take pictures of the falls, you're probably at the wrong place.
More N4C rule changes are coming down the pipeline. For instance, there will be soon be a photojournalism collage category. We hope that changes will also be made to the print competition. The best idea involves sending 8″x10″ disposable prints so the receiving club doesn't have the hassle of mailing everybody's images back. Right now it is not possible for a club like ours that only competes in digital to earn Club of the Year, which is an unfair situation.
The confusing score numbers on the November returns told us that some clubs have started to use alternate scoring methods. In some cases a total of 27 points are possible. Not sure which is which since the teeny printed scoresheets don't elaborate. For instance, I got one back that had a bunch of plusses on it for Composition and Interest, without any numbers in those categories. I guess weirdness makes life interesting.
Our next club meeting will be next year, on Jan. 6, 2020. For our second meeting in January (on Monday, Jan. 20), the club decided on The Story Behind the Photos. Every club member who wishes can contribute up to five photos and talk about them. We are envisioning a bunch of quick, mini-presentations. You must either send your photos to Ken by Sunday before the meeting or bring them on a USB flash drive.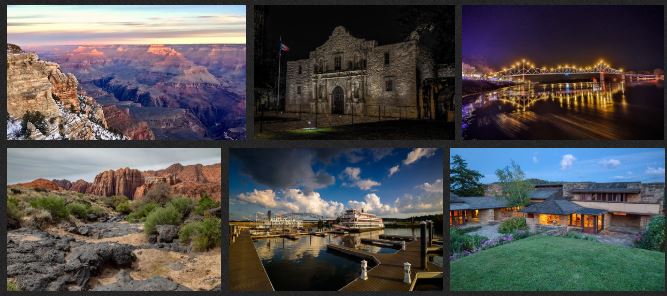 Winners
At the holiday meeting, we went over returns from the November 2019 N4C competition. The following photographers were recognized:
Ron Tigges, digital journalism, merit award
Ron Tigges, digital nature, merit award
Andreas Exner, digital nature, merit award
Andreas Exner, digital travel, honorable mention
Ken Kiss, digital B&W, merit award
James Durrant, digital travel, merit award
Lorna Costello, digital travel, merit award
Misc. member news
Holiday party attendees also shared a variety of photography-related activities and accomplishments. Here is a smattering of gossip overheard:
Becky Mather attended the Great Smoky Mountains Photography Summit in November. "We had a ball," she said about driving out there with a girlfriend. Although the elk photo expedition was disappointing, the sunrise pics every day were glorious, and world-class photographers led the workshops. Becky won 3rd place in a macro contest for a photo of a water droplet.
James Durrant is not yet over his obsession with Frank Lloyd Wright architecture. He registered for another workshop next Memorial Day weekend in Oak Park, Illinois. Photographer Andrew Pielage leads these architecture photography workshops. Participants have access to interior and exterior of private residences.
Bob Felderman has returned from Austria where he and his wife, Nancy, enjoyed castles, museums, architecture, and time with the grand kids. Nancy says she is never again trusting a German-speaking waitress because they always bring her liver dumplings. She finally put her foot down and made Bob take her to an Italian restaurant; they have those in the big cities. We can expect to see lots of schnitzel-flavored photos from their trip in upcoming competitions.
General Bob's photos are on display through December 27, 2019, at the Smokestack, located downtown by the courthouse. There is some whispering about a closing party, but we don't know the details.
In the realm of wildlife photography, club member Andreas Exner recently photographed a Great Horned Owl. In case you're wondering, it's not Ken's owl, but a different local resident. Andreas has also had recent glimpses of a Fox and an Opossum. Not sure if he had time to grab his camera.
We have heard that Kevin McTague is in Costa Rica, photographing the bird life. If the end results are anything like his southwestern birding trip, we can expect to see some stellar images.
David Smethers attended the holiday party after missing the whole entire season due to the call of two-wheeled adventures. He was in disbelief that his image of a rock climber at the Grand Canyon earned a Best of the Best in the end-of-the-year 2019 N4C digital competition. See the N4C gallery here.
Henry Matthiessen is doing well in his new gallery on the Central Avenue curve. He's making plans to again attend Shutterfest in St. Louis. The event is held in a huge old train depot. Free models are available if you send them a few portfolio shots.
I nominate Bridget, guest of club member Leo Heim, for People's Choice award for the most fashionable holiday party-wear. She tucked dollar store poinsettias into a headband and scarf made from the soft underbelly of a Musk Ox. What a creative seasonal wardrobe!
Upcoming events and meetings
Thursday, Dec. 12 at 6:00 p.m. Dubuque Audubon Society meeting at E.B. Lyons, with a Pelagic birding presentation by Tony Moline. More info here.
Monday, January 6, 2020 at 6:30 p.m. First club meeting of the new year. Send in your N4C submissions before the meeting. Watch our Facebook group for any weather-related cancellations.
Sunday, January 12, 2020 at 1:00 p.m. Photography presentation by Dubuque Camera Club members at E.B. Lyons. Would you like to share your Mines of Spain, bird, or nature photos? Ron is looking for people to participate in this team presentation! More info here.
Saturday, January 18, 2020. Dubuque Bald Eagle Watch. This is an all-day, family-friendly event at the Grand River Center. Our club will have a vendor table. John, Andreas, Ken, and Kevin have volunteered to be our Eagle Watch committee. The slideshow will consist of past nature submissions from the club's online gallery. If you want to contribute other nature images, send them to Ken before the event. More info here.
Monday, January 20, 2020 at 6:30 p.m. Club meeting. We will enjoy informal club member presentations: The Story Behind the Photos. Club members will be invited to tell a story and show us your best stuff. Bring 5-10 images on a USB flash drive. You can also email them to Ken by Sunday night at the latest.