Do you have questions about submitting your images to the N4C competition? Find out details by attending a Dubuque Camera Club meeting.

Official N4C Resources:
N4C Website
N4C Handbook
N4C 2019/2020 Contest rules
The Dubuque Camera Club is a member of the North Central Camera Club Council (N4C). Our club currently competes only in the digital categories. The N4C season runs for eight months from September to May. There is no contest in the summer or in the month of December. Photos are judged on a rotating basis by around 40 different member clubs located in the midwest. When our club judges, it impacts which categories we can submit to.
Our club abbreviation is DA. Submissions are typically due before our first meeting of the month. Each club member has a unique member number. You must be an active member (with membership fees paid for the current season) to be eligible to submit to N4C contests. Submitting to N4C competition is one of the perks of club membership.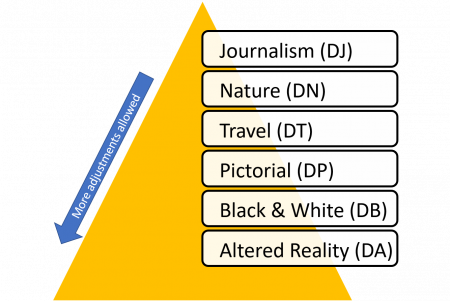 How to submit
Email your submissions before the first meeting of the month to a club N4C representative:
Ken Kiss — Nature and B&W
Cara Pusateri — All other categories
File Size. Size your photos to 1920 pixels on the longest side, and up to 750KB in size. Crop to 16:9 for best results on widescreen displays. Use sRGB.
File Naming. Use our club code (DA) plus your member number, the category, and your image's title. Separate these items with commas.
Example: DA001,DP,Beautiful Sunset.jpg
DA This is the Dubuque Camera Club code. 
001 Your member number.
DP
Category code:
DP: Digital Pictorial
DN: Digital Nature
DT: Digital Travel
DB: Digital Black & White
DJ: Digital Journalism
DA: Altered Reality
Beautiful Sunset
The title of your entry, up to 256 characters. Spaces are allowed.
.jpg
File name extension (Not .jpeg).
Voting on submissions
Visit our club's online photo gallery to view submitted images.
Our club's N4C representatives make the final decisions about which images get sent in.
Club members in good standing may vote on the best images. Voting is done by commenting. Your comment should consist of ONLY your member number. You may vote for up to 5 images in each category. Make sure to vote before the first club meeting of the month.
Note that if you do not have a SmugMug account, you may not be able to comment. You are NOT required to purchase a SmugMug membership.
How many images you send in?
A club member may enter up to ONE image per category, for each monthly contest. Our entire club is allowed to enter up to EIGHT images per category, unless we judge.
N4C rules state: "The maximum number of digital images which may be submitted by any club is eight (8) in any one category; one (1) entry per member."
When our club judges, it changes the submission schedule. We cannot submit to a category during a month when we judge that category. The following month, our club can submit double (16) in that category. 
Attend a meeting to find out more!
Our club looks at N4C submissions and returns during the first meeting of each month. Tri-state photographers are welcome to attend Dubuque Camera Club meetings to see what is being submitted to N4C competition, and to participate in other fun events and activities!