Official N4C Resources:
N4C Website
N4C Handbook
N4C Contest rules
Winners Galleries
The Dubuque Camera Club is a member of the North Central Camera Club Council (N4C), which hosts a monthly photo competition for member clubs during a season that runs from September to May. Club members may submit photos to N4C competitions.
Competition Categories
Note: N4C competition rules and category descriptions will be changing for the 2019/2020 season.
Pictorial DP. Pictorial photography is concerned with the artistic quality of the presentation of the subject, rather than with the subject itself. Thoughtful technique and careful composition should combine to elevate the image beyond a mere visual record of a scene.
Nature DN. Nature photography is simply the recording of our natural world by some photographic means. The "hand of man" shall not be present in any nature entry.
Travel DT. Travel photographs strive to convey the feeling and flavor of a place through a single image, and emphasize what that makes a place unique. File name should include the location.
Black and White DB. Entries for this category must be in black and white. Color toning or duotone is allowed.
Journalism DJ. Photojournalism is using a photograph to tell a story or report an event, much as a newspaper article would. Good photojournalism photos often have a strong human interest at their core. [This category uses a different scoring system].
Altered Reality AR (was Digital Creative). Altered Reality photography is limited only by the imagination of the photographer. Any amount of editing or combining of images is acceptable.
Submission Rules
Each Dubuque Camera Club member receives a membership packet with detailed guidelines to follow when entering the monthly N4C competitions. A few highlights are below.
File Size. Images may be no larger than 1920 pixels on the longest side, and up to 750KB in size.
File Naming. When you name your submission, use the club code (DA) plus your member number, the category, and your image's title. Separate these three items with commas (don't use spaces after the commas). Use .jpg for the filename extension.
Example: DA001,DP,Beautiful Sunset.jpg
DA This is the Dubuque Camera Club code number. It should be attached to your member number.
001 Your member number.
DP
Category code:
DP: Digital Pictorial
DN: Digital Nature
DT: Digital Travel
DB: Digital Black & White
DJ: Digital Journalism
AR: Altered Reality
Beautiful Sunset
The title of your entry, up to 256 characters. Spaces are allowed in the title.
.jpg
File name extension (Do not use .jpeg).
WHERE TO SEND YOUR COMPETITION SUBMISSIONS:
Email your Digital Nature and Digital Black & White entries to Ken Kiss. All other categories, email to Cara Pusateri. Club members, see your club information for specific email addresses.
Submissions are due before the first club meeting of the month. Get your submissions in as early as possible. Please allow time for images to be uploaded to the voting website. Remember, there is no competition in the summer because the N4C season runs from September through May.
When we judge a category in a month, we do not submit to that category. Our club will then have double the number of submissions (16) the following month.
N4C rules state: "The maximum number of digital images which may be submitted by any club is eight (8) in any one category; one (1) entry per member." When our club has judged a competition category, double entries in that category (up to 16 images, or up to 3 per member) are allowed.
Club members in good standing may visit our online gallery to vote on submitted images: http://photos.dubuquecameraclub.com/
Use your club number to create a comment in each category. Click on the speech balloon icon on the bottom right of photo to bring up the comment box. You may make up to 5 votes per category. Comments cannot be changed. Vote before the first club meeting of the month. Our club's N4C reps will make the final decisions about which images are submitted.
NOTE: You should be able to login using either Facebook or a SmugMug account. Contact Ron in case of login difficulty.
Remember, we review competition submissions and returns during club meetings. Please attend club meetings to enjoy the photos being submitted by our talented member photographers!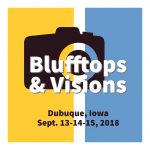 In September 2018, we hosted Blufftops & Visions, the 62nd annual N4C photography convention, in Dubuque, Iowa. [Photo gallery]
2018 N4C Convention Winners:
Our club earned a total of 11 awards, including a first place in Digital Travel by Jose Garcia for his image of "Ciudaddelas Ciencias Spain" and second place for Ron Tigges in the Digital Altered Reality category for "Racing into Reality." Honorable Mentions went to Pamela Brandt, Kevin McTague, David Smethers, Ron Tigges and Jose Garcia.
N4C Best of the Best Competition and Annual Award Winners
Dubuque Camera Club members recognized in 2016-2017
Digital Black and White
First place: Gary Fagan, "Braving the Storm"
Honorable mention: José García, "Picking Flowers"
Digital Nature
Second place: José García, "Winter Sunrise"
Honorable mention: Gary Fagan, "Protect Me"
Digital Travel
Third place: José García, "Alhambra, Spain"
Honorable mention: Robert Felderman, "San Diego Skyline and Sailboats at Sunset"
Honorable mention: Kevin McTague, "John Hopkins Glacier, Alaska"