The Dubuque Camera Club's holiday annual party and potluck on December 3, 2018 was attended by 28 people. We enjoyed a delicious meal with our photographer friends and significant others. Thanks to everyone who shared their good cooking!
During the meeting, we looked at previous N4C competition returns. We did not have any submissions this month. [The next N4C submissions are due before the next club meeting on Jan. 7, 2019.] We also browsed the online winners galleries.
Congratulations to the following club members who earned recognition for their excellent photo submissions:
Ron Tigges
Eleanor Schueller
Dave Smethers
Kevin McTague
Ken Kiss
Bigger image dimensions are now allowed.
As of October 2018, the N4C rules now allow a file size of up to 750KB (was 500KB). The longest side can be up to 1920px.
Remember, being able to submit to N4C competition is a perk of club membership. Send digital nature or digital black and white submissions to Ken. Send photos in all other categories to Cara. Look for specifics in your member packet or in past club emails.
Upcoming Club events:
♦♦ Next club meeting is next year! Due to the holidays, there is no second meeting in December. Our next regular club meeting will be on Monday, January 7th, 2019 at 6:30 p.m.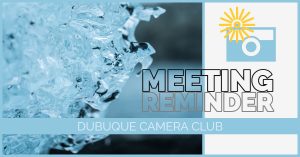 ♦♦♦ A Flash Photography Workshop will be the agenda at the second meeting of the New Year, on Monday, January 21st @ 6:30 p.m. Bring your gear. The club will explore off camera and on-camera flash techniques, as well as continuous lighting.

All tri-state area photography enthusiasts are welcome to attend regular club meetings. Location: E.B. Lyons Interpretive Center, Mines of Spain. Watch our Facebook group for any weather-related cancellation information.
Bird photography presentation. Three club members, Ron Tigges, Ken Kiss, and Kevin McTague, will be sharing their bird photography at the Dubuque Audubon Society meeting on Thursday, Jan. 10th at 6:00. This is the same presentation they gave during Blufftops and Visions, so if you missed it then, or see it again! Location: E.B. Lyons, Mines of Spain.
Dubuque Bald Eagle Watch. Saturday, January 19 from 9:00 a.m. to 4:00 p.m. at the Grand River Center in the Port of Dubuque. The club will have a table at this free family event. If you want to display and/or sell your nature photos, get in touch with Ron. We will not be formally scheduling volunteers to staff the table, so please just stop by to chat and hang out with other club members.
The Dubuque Bald Eagle Watch is a free family event with live raptor presentations scheduled throughout the day. If you are into wildlife, bird, or nature photography, you will definitely want to put this annual event on your calendar. It is hosted by the Dubuque Audubon Society.
Other news:
PPA convention. Bob Felderman will be attending the national PPA convention in January. This is a huge event that will be held in Atlanta, GA. If you are also interested in details of this event, visit the Imaging USA website.
Art @ Your Library. The Carnegie-Stout Public Library is exhibiting a holiday art show in the rotunda area through January 21, 2019. The exhibit features sixteen local artists in a variety of media. You can see a couple of photos by our club members: General Bob and Gary Fagan.
Snow sculptures. The Dubuque Museum of Art will be hosting a free snow sculpting competition in Washington Park on January 26 from noon to 4:00. Last year this event provided some interesting photo opportunities. See the museum's website for more info.
DuMA Biennial. The Dubuque Museum of Art is currently accepting submissions to its Biennial. Last year, this call included photography. It is a juried exhibit, and there is a fee to enter. Contact the museum staff or find more information here.
Broad Ideas. Women club members are encouraged to enter their photography (or other artwork) in this year's Broad Ideas exhibit at the Galena Center for the Arts. Deadline is Feb. 8 with an opening date of March 1. Last year we had a couple of club members in the exhibit. More details and an entry form at broadideas.org
Submerged in the Sublime. If you're in the mood for a road trip, the Figge Art Museum in Davenport has an interesting photography exhibit that opens on Feb. 9, 2019. It is called "Submerged in the Sublime: The Landscape Photography of Kim Keever." More exhibit information is on the Figge website.