Sixteen people attended the Dubuque Camera Club meeting on March 19, including one new member. The March 5 meeting was cancelled due to severe winter weather, so this was the first time we've met since February. Jennifer started the meeting with a few announcements.
The N4C Spring Mini-Convention will be held on May 4-5-6 at St. Thomas More Center, in Panora, Iowa. Find more information on the N4C website. On Sunday morning (May 6) at 9:00 a.m., representatives of the Dubuque Camera Club will promote Blufftops & Visions to attendees of the mini-con with a Dubuque tourism-related slideshow.
SAVE THE DATE for
Blufftops & Visions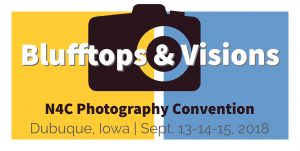 The 62nd annual N4C convention will happen right here in Dubuque on September 13-14-15, 2018. Our club will be hosting this adventure! Workshops, photo shoots, good food, and talented photographers to learn from and meet.
We are currently finalizing the details to determine the keynote speaker(s). That information will be announced when it becomes available. To stay up-to-date, sign up for the Blufftops & Visions email list.
"We need people to commit to that weekend," said Jennifer. Fun activities on convention weekend will probably include a riverboat cruise on Saturday afternoon, and getting a tour INSIDE the historic Shot Tower.
Estimated ticket cost for the entire convention, including meals, will be around $199. (This figure could changes, and does not include lodging.) There is some discussion of a discounted price for club members, volunteers, and students. Tamron, Canon, and Hunts Photo are confirmed as vendors/presenters.
Remember, in order to make this a powerful experience, we will need financial sponsors. Ask your employer or a business that you know!
We will also need donations of small items for "swag bags." They need to be 80 to 150 in quantity, and suitable for an out-of-town visitor. Dubuque tourism stuff or photography-related stuff would be ideal, but other items can work too.
A preliminary planning session for the September convention is tentatively scheduled for Friday, April 6. Contact Jennifer or Pamela if you are a club member and would like to attend.
The Linn Area Photo Club (LAPC) will be holding their annual day-long photography workshop on Saturday, May 19, 2018. The speaker will be Chuck Kimmerle.
Lois and Ellie have gone to this event in the past. "It's a nice day," said Lois. "It's very worthwhile."
Location: New Covenant Bible Church, 3090 Center Point Rd., Cedar Rapids, Iowa, 52411. Cost is $30 for the day, including lunch.
Winning photographers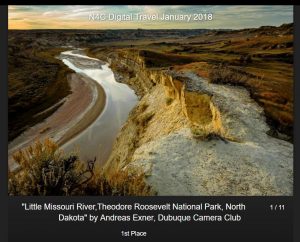 Much of the evening's meeting was taken up by viewing returns from November 2017 and January 2018. These photos were submitted to previous monthly N4C competitions and have been returned to our club with comments and results.
Our club is awesome! Congratulations to the following photographers:
Gary Fagan
José García
Shannon Woulfe
Kevin McTague
Andreas Exner
Ronald Tigges
Jennifer Tigges
Kenneth Kiss
Lori Burrows
Gen. Bob Felderman
For complete results, see the winners' galleries.
---
EASTER deadline. The deadline for the next round of submissions is on April Fool's Day, aka Easter Sunday. Get your submissions in as soon as possible so our N4C reps (Cara and Ken) will have time to put them on the voting website.
Next Club Meeting: Monday, April 2, 2018 @6:30 p.m.