Remember, all tri-state photography enthusiasts are invited to participate in the Dubuque Camera Club.
Eighteen people attended the Dubuque Camera Club meeting on Oct. 2, 2017. Club president Ron Tigges shared some images that he took during Presidents, Pixels and Pines.
Four of our club members attended the 2017 N4C convention in South Dakota: Ron, Jennifer, Ellie, and Lois. Their insight will be very important when we host the event next year.
One of the activities that happens at the annual convention is an awards ceremony for the Annual Best of N4C Contest Winners. Our club did awesome this year!!!
CONGRATULATIONS to these outstanding photographers:
Gary Fagan
Jose Garcia
Kevin McTague
Gen. Bob Felderman
[See the Best of N4C winners gallery here.]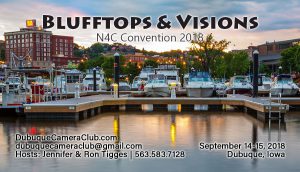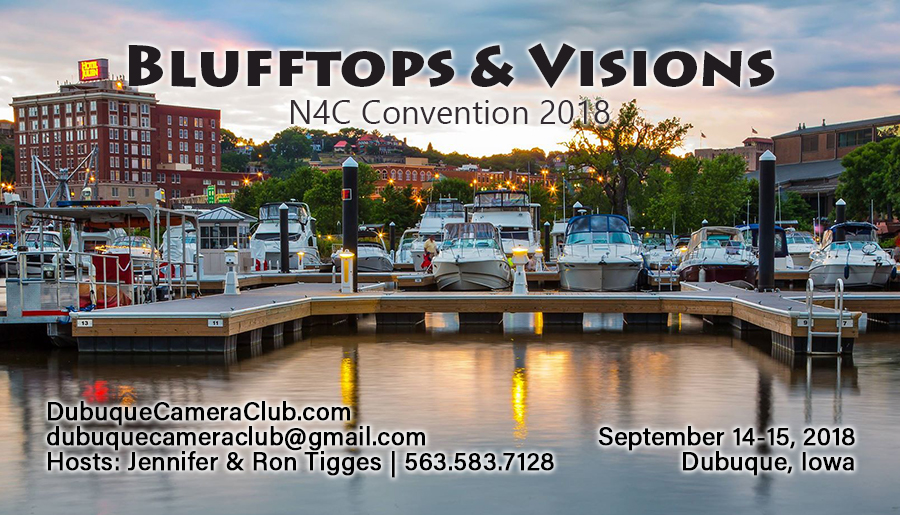 Blufftops and Visions
The Dubuque Camera Club will host next year's N4C convention in Dubuque on Sept. 14-15, 2018. Be thinking about presenters or workshops that you would like to see happen during this event!
Blufftops & Visions will be headquartered at the downtown Dubuque/Galena Holiday Inn, 450 Main St. in Dubuque. Be sure to like the new Blufftops and Visions page on Facebook.
Exhibit alert! Take your friends and family to see photography by Dubuque Camera Club members at the Dubuque Museum of Art. Dimensions of Photography is on display in the upstairs balcony through October 29. More info at dbqart.com
Due to a scheduling conflict, we decided to cancel the Oct. 16 meeting. Our next meeting will be held on Monday, Nov. 6, 2017 @ 6:30 p.m. Submissions for the monthly N4C competition are due before the start of the next meeting. Get them in early!!!
Remember, the dimensions have changed. The longest side can now be up to 1920 pixels. See the competition page on the club's website to learn more.
Reminder: If you need to pay your annual dues for the 2017-2018 season, contact club treasurer DeWayne Beecher