The Dubuque Camera Club meeting on January 23, 2017 was rescheduled from the previous Monday due to weather. The club judged the Digital Black and White category in the N4C competition.
To start off the evening, club president Ron Tigges talked about future club and photography related events.
The Dubuque Camera Club will give a presentation about Nature Photography on Sunday, March 5, at 1:00 p.m. at the E.B. Lyons Interpretive Center as part of the Friends of the Mines of Spain winter program series. Members are welcome to bring prints to put on a table that day, submit some photos for the presentation, or speak in front of the group. If you are a club member interested in presenting, please contact Ron or Jennifer.
Nearby events
Kevin McTague let us know about an event sponsored by the Quad City photography Club on February 4-5, 2017. More information here
Another upcoming seminar is the Peoria Seminar is March 18. More information here.
More news
Bald Eagle Watch update. Thanks to all who volunteered by staffing our table during the 2017 Dubuque Bald Eagle Watch!
Congratulations to club member Gary Fagan who was recognized at the recent Professional Photographers of Iowa convention!
---
Judging black and white images
121 images were judged by Lois Pancratz, Ron Tigges and José García. Documenting the numbers and comments were Eleanor Schueller, Ken Kiss and DeWayne Beecher. Ten additional members were in the audience. Thank you to all. Hopefully, the new members in attendance enjoyed and learned more about the process.
January results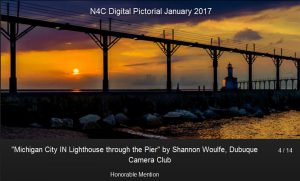 The following club members earned recognition in the January N4C competition:
Gary Fagan, "Lunchtime," 2nd Place, Digital Nature
José García, "In the Woods," Honorable Mention, Digital Creative
José García, "Friends," Honorable Mention, Digital Creative
Shannon Woulfe, "Michigan City IN Lighthouse through the Pier," Honorable Mention, Digital Pictorial
Congratulations to our terrific photographers! You can view all the winners in the Winners Galleries.
Upcoming meetings
February 6, 2017 at 6:30 p.m.
We can submit double Black and White submissions. Submissions are due as soon as possible to Cara. If you cannot access the Smugmug galleries to make comments to vote (via a Facebook account, Google+ account or Smugmug account), please email Ron or Jennifer, and we will help you to create a guest account.
February 20, 2017 at 6:30 p.m.
The February 20th meeting will be a work session in preparation for the Nature Photography presentation on March 5. Bring your images and stories, and we will organize the presentation.