The October 17, 2016 meeting of the Dubuque Camera Club was attended by 21 people. Jennifer Tigges led the meeting and gave a presentation about the basics of creating DSLR video. Below are a few informational highlights:
Annual Photo Essay Competition
Jennifer suggested that our club should consider entering the annual N4C photo essay competition. It can be a group project. This year's winners were shown during the national N4C conference in Fargo.
The official definition from the official N4C contest rules: "A photo essay is a series of projectable images accompanied by music and/or a narrative which tell an integrated story presented in a pleasing and understandable manner."
Photo essays should be under 6 minutes long and use only still images (effects can be applied), with a soundtrack, and saved in .mp4 or .mov format. Deadline is March 31, 2017. Entries will be shown and winners announced at the Springbrook mini-conference, April 28-30. See the rules at the link above to learn more.
Rapid City takes the lead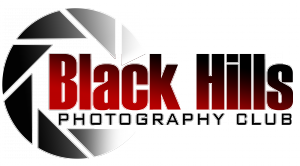 The 61st annual N4C Photography Convention will be held in Rapid City, South Dakota, September 21-23, 2017. The brochure was passed around during the meeting.
The Black Hills Photography Club is hosting and they already partnered with their area's tourism office. Itineraries have been created for photographers and family members.
Should Dubuque ever host the conference, the Rapid City event would be a tough act to follow. But we could do it with a lot of work, if everybody is willing to help out and do their share.
Ron has mentioned that it would be best to get our feet wet by organizing a one-day event. We can invite the public as well as other camera clubs within close driving distance. Speak up about your ideas during any meeting.
Portraits at DuMA
While a specific decision has not been made about the theme of our next exhibit at the Dubuque Museum of Art, they do want us back. Portraits are being considered as a theme.
"Something that tells a story or makes you think," said Jennifer. She said they can be people with "hard faces." However, no self portraits or snapshots.
For ideas, she showed some portraits by photographer Dan Francis.
Locally, Tim Olson's Millwork Portraits are another excellent example of portrait photography. They are on display in the hallway behind the Food Coop and Inspire Cafe in the former CARADCO building of the Historic Millwork District.
Contest
Entries are being taken for the juried Mississippi River Art and Photography Shootout. $10 entry fee per image.
Last year, club president Ron Tigges won a purchase award in this competition.
Club member Becky Mather won 2nd place in the scenic category with her photo, "Morning Glory."
The winning photos were exhibited last year in the U.S. Army Corps of Engineers' National Great Rivers Museum in Alton, Illinois. However, the rules don't mention whether or where prints will be exhibited this year. Let the club know if you have more details.
To get ideas about river photos, follow the Mississippi River photos page on Facebook.
Video DSLR Presentation
Jennifer did an excellent job on her presentation. The topics she covered included how to avoid camera shake, the use of copyrighted music, and more. Several club members contributed to the discussion during her presentation. She also showed a couple of short video clips. Thank you, Jennifer!
Next Meeting
The next Dubuque Camera Club meeting will be on Monday, November 7.
Get your submissions to Cara by midnight of Sunday, Nov. 6. No entries will be accepted this month in the Digital Creative category, because our club will be judging it on November 21.
* NO MORE SLIDES *
Be aware that, after this season ends, the N4C will no longer accept slides.