Contributed by Bob Felderman
The Dubuque Camera Club Holiday Party on December 7, 2015 was a success! Thanks to all who attended and especially to those who brought food or drinks. Lots of members and guests were present, and everyone should have left full.
Thank you to Laura Schuster for cooking the barbecued pork. Jennifer also did a great job with helping to organize our holiday gathering.
The meeting started promptly at 6:30 p.m. (okay, a little early since folks were nibbling). A drawing was held for giveaways. DeWayne won a CD, and Cecil won a book.
The new, official Dubuque Camera Club patches were passed out to those present by DeWayne. Sew them to your jacket or camera bag. Every member gets two patches.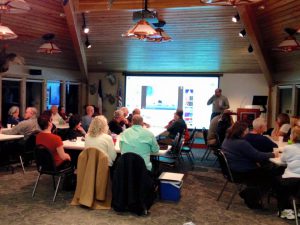 Next meeting: Monday, January 4, 2016 at 6:30 p.m.
DON'T FORGET to tell folks about us and ask them to join.
7:51 p.m. adjourned.