The Dubuque Camera Club meeting on November 18, 2019, was attended by 18 people. We had some club business to talk about before the main item on the agenda: Photo Critique Night, plus Five-minute Tips and Tricks.
Reflections prints. Bob Felderman, co-organizer of the Reflections exhibit, arrived with a big box of metal prints. Participating photographers could take home their prints from the club's successful 2019 photography exhibit at the Dubuque Museum of Art, which ended on Nov. 10th. Bob will bring any remaining prints to the upcoming holiday party. You are welcome to contact him if you would like your print(s) back sooner.
Club Photography Presentation at Mines of Spain. The club has accepted a request from the Friends of the Mines of Spain to give a one-hour photography presentation on Sunday, January 12, 2020, starting at 1:00 p.m. This will be similar to the photography presentations that club members gave in the past. "Anybody who wants to be can be involved in it," said club president, Ron Tigges. Contact him if you are up for this challenge.
The Friends of the Mines of Spain will be organizing several other events for Parks 2020, a year-long, state-wide celebration of the 100th anniversary of the Iowa state parks system. Still in the planning stages is a photography competition. The images that are entered MUST have been taken in the park.
We don't know the photo contest details yet. It has even been suggested that the club might judge the competition. The entries will be prints, possibly 8×10-inch. Definitely they will want images of all seasons of the year. Keep this in mind if you've taken some good photos at the Mines of Spain in the past.
Bald Eagle Watch. The club will also have a presence at the Dubuque Bald Eagle Watch on Saturday, January 18. This all-day event is organized by Dubuque County Conservation and the Dubuque Audubon Society. It will take place at the Grand River Center in the Port of Dubuque. The following club members have volunteered to serve as our 2020 Eagle Watch committee: John Leicht, Ken Kiss, Kevin McTague, and Andreas Exner.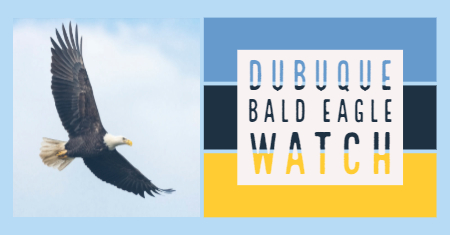 Critique Night. As the main event of tonight's meeting, the following photographers bravely submitted their images for Critique Night:
Ron Tigges
Ellie Schueller
Casey Klein
Sam Fenstermacher
John Leicht
Bob Felderman
Kevin McTague
Willie Tigges
The group consensus was that tossing leaves in a swirling eddy is just, well, swirly. Also that it's wise to wear galoshes for goose poop when taking pictures by the Presentation sisters' lake. And it doesn't really matter which side of the dock a boat is tied on during a pretty, pastel-colored dawn. Plus, although throwing frozen lizards at roadrunners in Texas is a little icky, we really, really want to go to Madison for Gleam.
Tips and Tricks. Ron polished off the evening with a brief post-processing demonstration. With several images of the same scene at the Chicago "Bean," he showed how to open them as a smart object, and use median stack mode to make people disappear. This technique can also be used to reduce noise. Here's what Adobe says about image stacks. Here's a similar technique for focus stacking.
Member news…
Casey Klein was walking on air during the meeting because her photo of Galena Luminaria was selected to appear in the December 2019 issue of Illinois Country Living magazine.
Corey Huntington has closed his professional photography studio and will be moving out of state. He has studio lights, backdrops, stands, and other equipment available for sale.
Bob Felderman, owner of General Bob Photography, will display his original digital photography in a solo exhibit at the Smokestack. The exhibit is scheduled to open on Tuesday, December 3rd. An opening reception will be held on December 6th, starting at 5:30 p.m. Admission is free. The Smokestack is located on White St. in downtown Dubuque near the Dubuque County Courthouse.
Other area photography news…
Several of our photographer friends are selling calendars right now. For instance, Mark Dierker is offering fine arts nudes in addition to a storm chaser calendar. Here's a link to the Bear Dancer Studios Store.
Dubuque photographer Tim Olson is again signing books for his A City at Work project. Here's information from Loras College about a pair of related books. The library will be hosting a history/photography presentation on Dec. 1st. Here's more info about this event.
From BizTimes: Seeley Photography achievement. Sarah Seeley was named a Platinum Medalist during Professional Photographers of America's 2019 International Photographic Competition. Her work will be on display at the Gaylord Opryland Convention Center in Nashville, Tenn., Jan. 19-21. This International Photographic Exhibit is held in conjunction with Imaging USA, an annual convention and expo for professional photographers.
---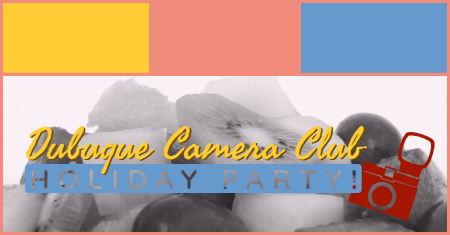 Next meeting
The next meeting of the Dubuque Camera Club will be our annual Holiday Party on Monday, December 2nd at 6:00 p.m. (note the early start time). It will be the final meeting of the year, with no other meeting in December.
The December meeting is a potluck, and club members are welcome to bring spouse or significant other(s). The club will provide main dish and tablewear. Note that the N4C does NOT do a December competition. Club members, see your email to RSVP to the Holiday Party.
After that, we will meet again next year on Monday, January, 6, 2020. N4C competition submissions are due beforehand.
---