The Dubuque Camera Club meeting on May 6, 2019 was attended by 18 people. Below are a few things that were discussed…
Ron and Jennifer enjoyed their trip to Wesley Woods for the N4C mini-con.
♦ Ron was awarded third place in panoramic prints. [Good job, Ron!]
♦ Jennifer has joined the N4C board of directors! [Yayyyy! Feet stomping on the bleachers! Cheerleaders doing stunts! Pep band playing!]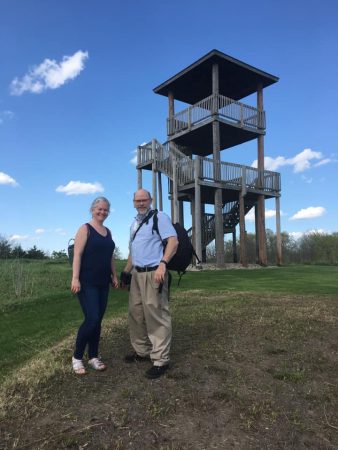 At the next club meeting on May 20th, we will hear more about what happened at the N4C mini-con. In the meantime, Ron leaked a few secrets [SHHHH, don't tell our new board member!]:
Our club may possibly judge the next N4C Photo Essay competition.
The description of some of the N4C competition categories will be changing. If you have been following along, you already know that some parts are unclear, or just plain unhelpful. Change is good!
The DA (digitally altered) category was heavily discussed, so we may see some clarification of the expectations for that category.
The DJ (digital journalism) category, now judged with a 15-point scoring system, will soon get an alternate scoring system.
The comments that club members receive on competition photos were also discussed. Everyone knows HOW HELPFUL THEY ARE.
Video may be added as a category in the future. Ron gave the example of the recent Julien Dubuque International Film Festival. Some films were shot using the exact same cameras that club members are now using to create still images.
Ribbons will be handled differently for monthly competition winners. Cara now has a big packet of ribbons that she can hand out right away.
The postage costs and hassle of prints needs to be streamlined. That's why our club stopped competing with prints several years ago. But the N4C point system is still skewed toward clubs that do do prints [Yes, that was do-do]. Because of this bias, it has not been possible for digital-only clubs to earn "club of the year" or "member of the year." With a voice on the board, our club can now advocate for change.
The N4C signed a contract, so Wesley Woods will be the location of the spring mini-con for the next 5 years.
Remember that the Des Moines Camera Club is hosting the big annual N4C convention this fall. Here's a link to the "Finding Your Light" registration page.
We are still getting positive feedback about Blufftops & Visions. Visitors especially enjoyed the Millwork & Models photo shoot! [Yayyy us!! We are so awesome!]

Remember to attend the next club meeting on May 20th.

In addition to Photo Critique Night, Jennifer and Ron will share even more information about various N4C do-do. Be there!
Submissions and Returns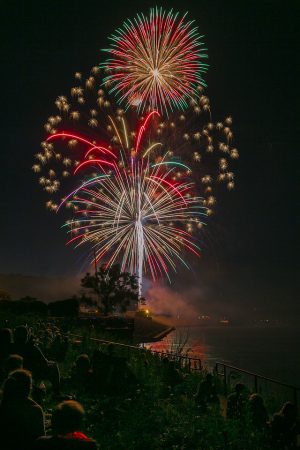 The club also looked at the competition returns for April 2019. Congratulations to the following awesome Dubuque Camera Club photographers!
Robert Felderman, 3rd place, Digital Pictorial, "Bouquet of Fireworks"
Karen Durrant, Merit award
Cara Pusateri, Merit award
Cory Huntington, Merit award
Kevin McTague, Honorable mention
The Digital Journalism returns for March 2019 have still not been received. Cara will share them when/if she gets them.
The club also reviewed the submissions for May. Note that May was the last chance to submit your photos to the N4C competition this season. The 2019/2020 season will start again in September. The next submissions are due before our first regular meeting of the new season, on TUESDAY Sept. 3rd, 2019 (the Tuesday after Labor Day).
Other club news
If you have purchased new photography gear and want to show it off to club members, you can do that at any meeting. It doesn't have to be part of the official agenda. Also, we plan to clarify the rules for our private Facebook group. Only club members are allowed to post items for sale there, which is one of the benefits of club membership.
Another benefit of membership in the Dubuque Camera Club is being able to participate in club exhibits. Reflections, the club's 7th consecutive exhibit at the Dubuque Museum of Art, is scheduled for September 21 to November 10, 2019. Initial submissions are due before the potluck picnic on Monday June 3rd. Only club members in good standing may participate. (I.e. your dues should be paid up-to-date.) Watch your email for exhibit details. Find more Reflections information here.
SUMMER PLANS: Even though our last "official" meeting for the season is on June 3rd, we plan to meet informally this summer. Ron wants to do light painting. This is a night-time long exposure technique. During the same photoshoot, people could also do star trails or other long exposure subjects. Photographer Roger Feldhans displayed his light painting work at Wesley Woods. Details of any summer photo shoots will be discussed at upcoming meetings and/or emailed to club members.
---
What club members have been doing…
Lori Burrows has taken a breather from her cross-country travels. She's been posting some terrific images from Florida and New Orleans. Recently, she was spotted doing volunteer photography for a women's shelter. What a great way to give back to the community!
Andreas Exner recently teamed up with Kevin McTague for a nature photo shoot from a backyard bird blind. You don't have to travel far to get great nature photos, especially during spring migration! He posted some of the bird photos on his blog.
Laura Schuster 's work will be in the inaugural show at the new Homestead Studio and Gallery in rural Bellevue. Laura will also be at the Corkless wine festival art fair in Galena on June 22.
Henry Matthiessen III is moving his Stoned Art Studio & Gallery to 1800 Central Ave., with a tentative opening date of August 1. In the meantime the gallery is open by chance or appointment. He will also be at various regional art fairs this summer, including Millwork Night Market.
Bob Felderman's images are featured in the May 2 issue of 365ink magazine, accompanying the 2019 Dubuquefest section. General Bob's photos are also being used to promote our Reflections exhibit.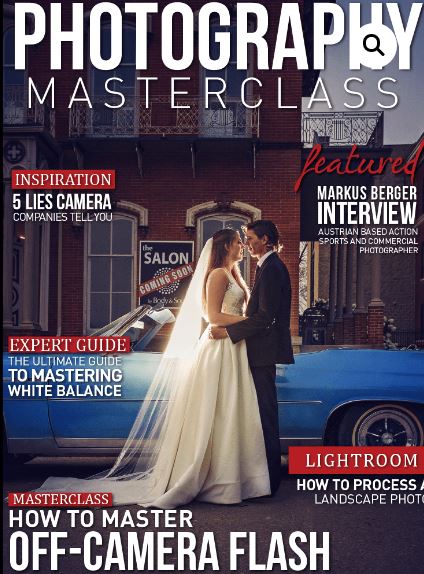 Jose Garcia has several photos in Issue #77 of Photography Masterclass magazine, including the cover image.
In his new role as Canon ambassador, Jose will be leading a two-day workshop on June 21-22 at Photo Pro in Cedar Rapids. Topics will be off-camera flash for portraits, with a second workshop about using natural light. A selection of Jose's photos will also be on display in the store.
Coincidentally, while searching for information about Jose's event on the PhotoPro website, I noticed a familiar face on their Facebook page. Take a look:
Upcoming meetings
Monday, May 20 @ 6:30 p.m. — Critique Night. [Click here for more information about Critique Night] Email 1-3 photos to Ken as soon as possible, with "Critique Night Submission" as the subject of your email. We will hear more about the recent N4C mini-con at Wesley Woods.
Monday, June 3rd @ 6:00 p.m. — Potluck Picnic. Note 6:00 start time. Bring a dish to share, along with your loved ones. The club will probably(?) provide burgers/brats as in previous years. (Re-)election of officers. And don't forget: REFLECTIONS submissions are due! [Click here for Reflections guidelines.]
Summer Photo Shoots and/or presenters — Day/time and details TBD.
TUESDAY, Sept. 3, 3019 @ 6:30 p.m. — First regular meeting of the 2019/20 season. This meeting is on a Tuesday due to Labor Day.