The Dubuque Camera Club meeting on October 7, 2019 was attended by 20 people. We welcomed one visitor, a guest of club member Becky Mather.
By the way, Becky has two really awesome prints in the Reflections exhibit: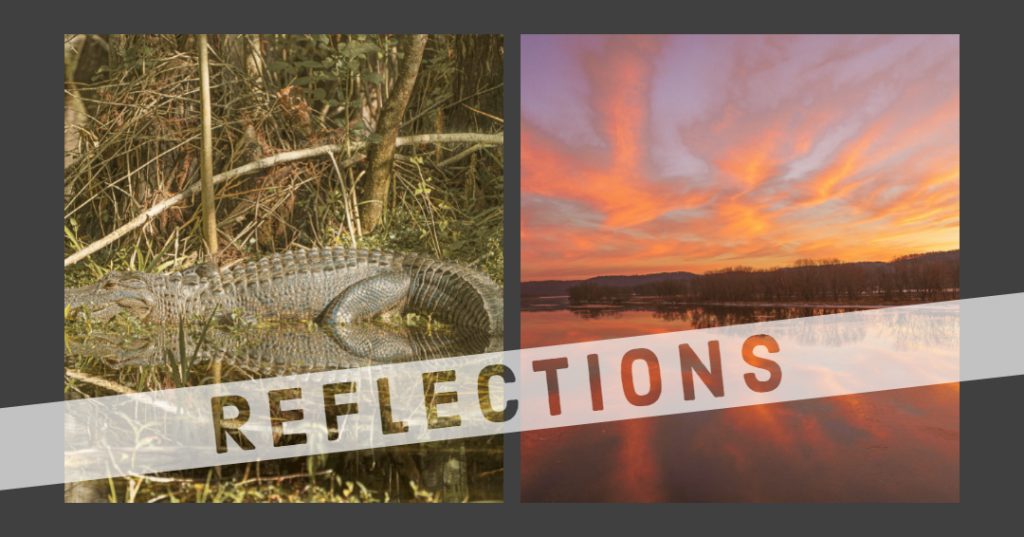 REFLECTIONS. This is the club's 7th consecutive exhibit, and we just heard the news that we have been invited back next year! We are getting positive reviews for the show, and the brochures are going so fast they have become valuable souvenirs! You can see all 25 images from the Dubuque Camera Club in the upstairs balcony anytime the Dubuque Museum of Art is open, from now until November 10, 2019. Good work, photographers!
At tonight's meeting Jennifer and Ron gave us a post-convention debriefing on Finding Your Light. Jennifer is now an N4C board member. The 2019 N4C convention was hosted by the Des Moines Camera Club and was held in Des Moines in September.
Everybody recognizes the Dubuque Camera Club at N4C meetings because we did such an awesome job hosting the Blufftops & Vision conventions in 2018. Yay, us!!! Quite a few photos taken at Blufftops were on display in this year's print competition.
Highlights from this year's Finding Your Light convention included a macro workshop from the keynote photographer, Don Komarechka, and a buffalo-oriented photo excursion to the Neal Smith National Wildlife Refuge.
The N4C board meetings were as contentious as usual, said our club reps. The next clash of grey-haired, camera-carrying titans will take place at Wesley Woods, near Pella. Any club member can attend the N4C mini-con on April 24-26, 2020. Registration info will be sent out by the N4C beforehand. The location is in a wooded area with on-location dorms so attending this mini-con is not too expensive.
Two new clubs just joined the N4C, bringing the membership up to 39(?). A new photojournalism story category — with five images and up to 30 words per image — will be judged at the 2020 spring mini-con. Entries should follow the journalism guidelines in terms of using minimal editing. A video contest will also be premiered at the mini-con. Details have not been posted yet, but we'll pass them on when we know something.
Here are the future locations for upcoming N4C annual conventions:
2020 – Sioux Falls, South Dakota (a six hour drive west of Dubuque). Hosted by the Sioux Falls Camera Club. The waterfall over the Big Sioux River is a noteworthy site to photograph. The Sioux City, Iowa, Camera Club will co-organize, making it a two Sioux convention.
2021 – Duluth, Minnesota (about six hours north of here). Duluth is located on Lake Superior. A noteworthy site to photograph is the Aerial Lift Bridge.
2022 – Wichita, Kansas (about 9 hours on the road if you plan to go).
2023 – DUBUQUE, Iowa!!! (tentative) Like, seriously!?!? We suspect Ron volunteered us again because he thinks Jenn will potentially be recovered from Blufftops by then. So get ready!
Our club earned three end-of-the-year awards at the 2019 N4C convention:
David Smethers, Honorable Mention, Digital Journalism, "Rock climber scales sheer cliff face to summit rim of Grand Canyon"
Jose Garcia, Second Place, Digital Black and White, "Smoke"
Dubuque Camera Club, Honorable Mention, Digital Newsletter, written by Pamela Brandt
This summer at the 2019 N4C mini-con, our club also took home a panoramic print award:
Ronald Tigges, 3rd Place, Panorama Print, "Christmas in July"
Congratulations, photographers!
Member news…
Henry Matthiessen III was in attendance at tonight's club meeting. He just completed his Thought from the Road journey to the American southwest. He jugged several Nikon cameras and camped on the mesa, among other fun times. The trip resulted in over 3000 still photos.
In addition, Dean Wellman took 2 terabytes of video, and is crafting a documentary about the Thoughts from the Road experience. Here's the project's playlist on Youtube. Possibly we will see the duo at the next Julien FilmFest…? Remember, you can visit Henry in his new gallery on the Central Ave. curve.
Novice club member Sam Fenstermacher bravely took off his cowboy hat to stampede the room toward his recent "Transitions" project on Instagram. He documented his move from Texas to the tri-states with 100 days of smartphone photography. Here is a link.
Club member Jose Garcia continues to build world fame with his digital talents. More of his photos were featured on the Canon USA Instagram page. Rumor is, he will be leading another workshop for PhotoPro in Cedar Rapids. Details were not yet available.
Another new club member, Lorna Costello, will have artwork on display in the Creative Adventure Lab gallery during the Fall Into Art gallery tour on November 1st from 5:00 to 9:00 p.m.
Remember, the Dubuque Museum of Art is also a stop on Fall Into Art, so be sure to make time to see the club's Reflections exhibit!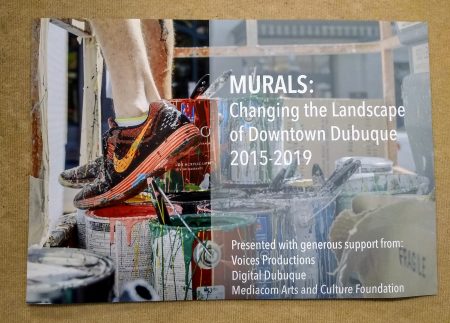 Photography and videography that was originally created by Ron and Jennifer Tigges (aka Digital Dubuque) is currently featured at the Quigley Gallery in the atrium building at Clarke. Ron took thousands of photos of the Voices Productions' downtown mural project, and a number of them have been printed for this exhibit.
At the next meeting…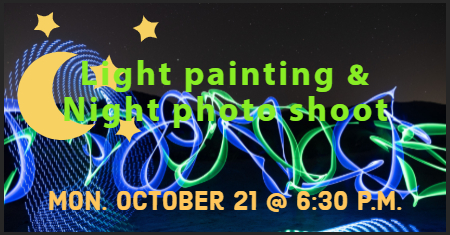 The next meeting of the Dubuque Camera Club will be on Monday, October 21, 2019 at 6:30 p.m. We are planning to do a light painting activity. Depending on the weather, we will also go outside for a night photoshoot. Bring tripod and gear.
TIPS: You may want to practice long exposure photography before the meeting. If you are willing to hold the lights, be sure to wear dark clothing. Dress warmly for going outside and wear your hiking shoes. You may want to bring a flashlight, and possibly binoculars (for looking at the moon/stars). More details will be emailed to club members.
See the links below for a couple of light painting tutorials: