Highlights of speakers and seminars at Blufftops & Visions…
Iván Ferrero
We are honored to welcome Iván Ferrero, fine art and landscape photographer from Toledo, Spain, as international keynote presenter. He will share his knowledge and life experience, including a video presentation of his original landscape and cityscape photography, at the dinner banquet on Saturday, September 15. In addition, Iván will lead a Saturday morning seminar on Advanced Digital Post-processing. See more of Iván's photography on his website (in Spanish).
---
Brandon Erdman
Award-winning photographer Brandon Erdman from Geneseo, Illinois, will be our guest speaker at the Blufftops & Visions dinner banquet on Friday, September 14. Brandon's photo of "Kofa Mountains Sunrise" was recently selected as first-place winner of the National Geographic and the Arizona Tourism Department's #UnRealAZ photo contest. His photo also graces the cover of the Summer 2018 issue of Iowa Outdoors, published by the Iowa Dept. of Natural Resources.
---
Stephanie Johnson
On Friday, September 14, 2018, photographer Stephanie Johnson from the Des Moines Camera Club will share her tips for creating beautiful abstract imagery using the technique of Intentional Camera Movement (ICM). Click here for a downloadable PDF of her presentation.
---
José Garcia
Dubuque Camera Club member José Garcia will lead a workshop in Advanced Post-processing for Portraits. José is an accomplished portrait and landscape photographer as well an educator. N4C members will recognize his work from the numerous awards he has won in the monthly N4C competitions.
---
Dubuque Camera Club
Photographers from the Dubuque Camera Club, including club president Ronald Tigges, Kenneth Kiss, and Kevin McTague, will share their bird photography suggestions and original images in a panel presentation about Tri-state Bird Photography. Kevin will also share his recent experiences in photographing the Birds of Southwest Texas.
Bluebird pair with meal – photo by Kevin McTague
Great Horned Owl – photo by Kenneth Kiss
Hummingbird – photo by Ronald Tigges
---
Sean McDonald
On Saturday morning, Sean McDonald, former owner of the Everything Photography Store, will lead a workshop about Off-Camera Lighting for Portraits. Learn the techniques of triggering off-camera lighting.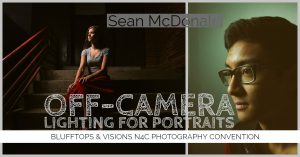 ---
Tamron — Macro Class
Armando Flores, a Tamron Tech Representative will introduce you to macro lenses and related tools. Learn how to photograph the smaller things around you. Topics will include exposure, white balance, lighting and lens selection. This informative seminar on macro photography will take place on Friday afternoon. Tamron will also staff a vendor table and provide lenses for participants to try at the Millwork and Models shootout on Friday morning.